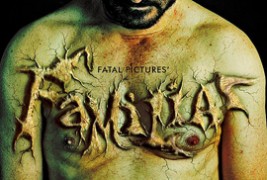 Short horror film Familiar (Fatal Pictures 2012) makes its way to FEARnet in 2013.
One of last year's most talked about short films, Familiar, will soon be accessible to a much larger audience by way of FEARnet (www.FEARnet.com).  The movie stars Robert Nolan, Astrida Auza and Cathryn Hostick as the seemingly idyllic yet ultimately doomed Dodd Family.  Through a series of tragic events the patriarch of the Dodd family grows to suspect the negative impulses plaguing his mind may not be his own.
FEARnet is a TV, VOD and web destination for horror, suspense and thriller programming.  Available on TV and On Demand across the US, FEARnet serves up the best horror, thrills, and chills in entertainment.
Familiar Teaser Trailer: http://vimeo.com/31039155/
Clip: http://vimeo.com/39664884/