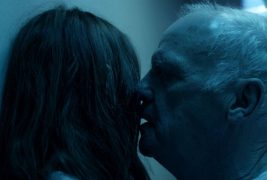 James Cullen Bressack's forthcoming feature Bethany looks exceptionally creepy.  That, in and of itself, isn't remarkable.  But what is remarkable is how the entire, weirdly eclectic cast seems to have been cast against type and, based on the trailer, the results look like it was a risk worth taking.
To get the goods on Bethany, coming in April, read the full press release and watch the trailer below, Horror Fans….
Tom Green (Road Trip, Freddy got Fingered) and Shannen Doherty (Charmed, Beverly Hills 90210) star in the spine-chilling Bethany, from acclaimed filmmaker James Cullen Bressack (Pernicious, To Jennifer), in theaters and On Demand this April.
After Claire's mother dies, she and her husband move back to her childhood home only to have the abusive and traumatic memories of her mother come back and bring unrest into the house. Claire soon finds herself in a fog of past and present when her imaginary friend from childhood begins haunting her memories. What is this terrifying thing that is trying to reach out to her, and what does it want?
Stefanie Estes (If Looks Could Kill), Zack Ward (Restoration), Keith Jardine (John Wick), Leon Russom (TV's Prison Break) and Felissa Rose (Sleepaway Camp) star in a film by James Cullen Bressack.
Written by James Cullen Bressack and Zack Ward, Bethany releases in theaters and On Demand April 7 via Uncork'd Entertainment.