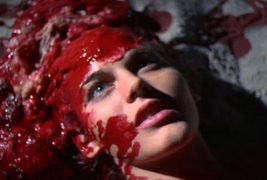 You don't get the nickname "Godfather of Gore" by accident and it certainly takes a special kind of person to live up to that name.  With over forty films to his credit, most of them as director, producer, or both, Herschell Gordon Lewis was a man truly ahead of his time.
Lewis was born on June 15, 1926 in Pittsburgh, Pennsylvania and moved to Chicago with his mother when he was six years old. School seemed to come exceptionally easy to Lewis, who graduated from Northwestern University with bachelor's and master's degrees in journalism.  He taught communications at Mississippi State before a position at a radio station in Racine, Wisconsin hooked Lewis and he'd soon become a studio director for a television studio in Oklahoma City.
Soon enough, Lewis found his way back to the Windy City and slowly, but surely began to carve his niche in the film industry.  At the age of twenty-seven, Lewis took a position at an advertising agency and taught graduate advertising courses at night at a local college.
"One goes where the good Lord sends us." – Herschell Gordon Lewis
In 1963, Lewis and exploitation collaborator David F. Friedman created what many consider to be the first "gore film" of all time, the cult classic Blood Feast. Lewis found quite the loophole in the film industry when he realized that while there were regulations against obscenity and nudity with the censors, there were no regulations against gore for some head-scratching reason. Not surprisingly, almost as soon as Blood Feast debuted, a whole laundry list of regulations came out regarding gore, bloodshed, and violence in films.
From there, Lewis's career in the horror genre snowballed as the Godfather of Gore splashed his gore over drive-in screens all across the country.  Two Thousand Maniacs! and Color Me Blood Red quickly followed Blood Feast and the rest is history.
Make no mistake—while his movies lack any sort of substantial plot and character development, Mr. Lewis himself was a true professional and a business genius. Like some of the filmmakers he inspired, Herschell began his film career working behind the camera of numerous soft-core adult films and ended up creating some of the most shocking gore and gross-out flicks of all time. Everyone from John Waters to Quentin Tarantino has acknowledged Lewis as a major influence on their careers and it's clear the man left an especially indelible mark on Wes Craven.
Ever the self-made man, just about all of Herschell's films were financed and produced with money Lewis acquired thanks to an extremely successful advertising firm he eventually owned, based in Chicago.
Unlike most of the truly excellent horror filmmakers that have worked in the industry, Lewis retired abruptly while still considered a hot name, basically vanishing in the early 1970s.  While away from the film scene, Lewis published a large collection of business advertising books and also served three years in prison for fraud.
In 2002, HGL took to the director's chair, helming Blood Feast 2: All U Can Eat, which included a cameo by Mr. John Waters.  Waters has long professed an affinity for Lewis and what he's done for the industry and so it should come as no surprise that Waters and Lewis finally collaborated.
Over the last fifteen years, Lewis remained relevant in the grue scene, making a cameo in the indie cult classic Chainsaw Sally while also starring in Terror Toons 3: Herschell's Gory Story, which—surprise—highlighted his career.
While his films aren't for everyone, there's no arguing that Lewis began a terror revolution.  Without Mr. Lewis, there is no splatter horror or even torture porn.  Would those subgenres have come up eventually?  I'm sure, but Lewis struck at the perfect time and helped shape the art of the truly disgusting, stunning, and vile horror films.  For that, he will always be in the hearts of so many horror fans, across the globe.
Herschell Gordon Lewis passed away this past Monday at the age of ninety, surrounded by family at his home in Florida.  Lewis was a business man, a filmmaker, and a hell of a pioneer in the genre.  He will be missed greatly by those who loved his work, worked alongside him, and aspired to be like him.  Granted, his golden age of creativity had passed some time ago, but some folks are simply too iconic to ever forget.  Lewis was certainly one of those.