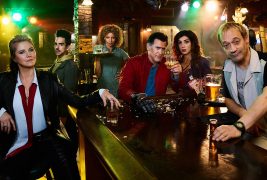 What's groovy, oblivious, and red all over?  Ashley J. Williams, of course, and he's back this Sunday night, October 2, 2016 at 8:00 pm ET/PT!
This week on Ash vs Evil Dead it's the homecoming he didn't see coming! Ash (Bruce Campbell) and his team return to his hometown of Elk Grove, Michigan in the season two premiere.  The party in Jacksonville is over when Ash, Pablo (Ray Santiago), and Kelly (Dana DeLorenzo) are summoned by Ruby (Lucy Lawless) back to Ash's hometown to form an unlikely alliance. Ash's dad Brock (Lee Majors), and the local pub rats give a chilly welcome to the man who's come to save them from evil.
Watch two sneak-peeks from Ash vs Evil Dead Season 2 Episode 1: "Home" below, Horror Fans….