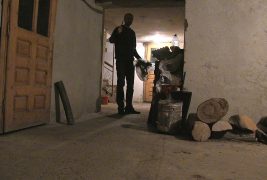 Be My Cat: A Film for Anne tells the story of Adrian (played by writer and director Adrian Tofei), an introverted wannabe filmmaker who has a deep obsession with American actress Anne Hathaway.  Adrian has the idea of creating a film project with Hathaway as the star, but first he must create a demo reel to catch the Hollywood starlet's attention.  Adrian brings in a trio of local women to be "Mrs. Hathaway" for the reel and it doesn't take long for us to realize that Adrian is not only a tad off his rocker, but he's a straight up psychopath.
If I had to pick one thing I truly loved about this film, it's the fact that this is guerilla filmmaking in its most stripped down form.  The "extras" in the film are unknowing and completely oblivious to the fact that a film is being made around them.  The found footage novelty wore off long ago, but it works wonderfully here.  It helps sit us firmly beside Adrian as Tofei truly takes your hand and leads you down the rabbit hole with this performance.  Starting off as a likeable, joyful fan of an A-list celebrity, Tofei quickly descends into the madman that truly shines in this film.
If I had to pick one thing that truly terrified me about this film, it's the fact that we feel as if we're witnessing a snuff film.  Because of the brilliant use of found footage and the fact that there is so much "real world ignorance" to what Tofei is doing here, the argument of what is real and what is fake becomes a difficult one to pick a side on.  What makes Be My Cat: A Film for Anne truly unsettling is the fact that it is a film within a film, a loving tribute to actress Anne Hathaway and also the trap that spells untimely demise for young females that Adrian comes across.
What also gets under your skin with this film is the fact that you quickly understand that Adrian is the antagonist here and yet we are forced to live the events through his eyes and his direction.  We are hopeless passengers in this train wreck of a life that Adrian is living.  When things take a turn and get bloody, we are a part of the mess.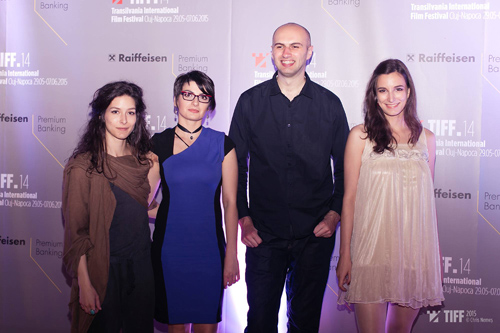 Tofei cannot have enough kudos heaped upon himself for being the father of this film.  I must admit that I'm a fierce proponent of strong female characters and while this film gives us one, two others are wasted and treated like little more than meat ragdolls when all is said and done, so I believe that Tofei's writing could use some work.  However, that doesn't take away from the fact that Tofei is a passionate student of cinema and it shows.
The three women in the film – Sonia Teodoriu (as Sonya), Florentina Hariton (as Flory) and Alexandrea Stroe (as Alexandra) – give such unnerving performances as truly naïve pawns in Adrian's game that you almost wonder if they got a script ahead of time or if Tofei was truly tormenting them without the women knowing the end game all along.
A lot of reviews out there claim that this film is one of the most revolutionary projects to hit the film festival circuit in quite some time and it's hard to dismiss that.
With independent films, there are a lot of points to be earned for style, creativity and originality.  The first found footage film from Romania, Be My Cat: A Film for Anne earns high marks for going out on a limb and giving audiences something fresh and frightening.  This one won't be everyone's cup of tea, but it's definitely one to check out if you are looking for a new take on a tired trope.