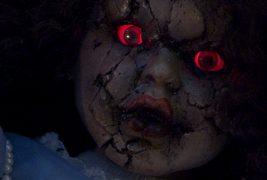 Evil Little Things, directed by Matt Green, is an independent anthology film all about creepy dolls. While it's a lower budget genre film, this new release from Uncork'd Entertainment has enough well-done elements to rise above some of its peers.
Technically, there are three main stories including the wrap around. However, the wrap around really feels like two stories in one. All the stories center around unsettlingly eerie dolls that may or may not be alive, or perhaps undead. The first part of the wrap around, is the story of a mom and stepdad who are tired of answering the frightened calls of the mother's young son. The stepdad is played by Zach Galligan of Gremlins and Waxwork fame. I always enjoy seeing him in a film and this time was no different, however limited his screen time may be. The second part of the wrap around story is that of a doll maker played by Geoff McKnight. He tells the stories of the eerie-looking dolls that he is working on to the mother and child who visit the store where he works.
The next two segments of the movie are, you guessed it, the doll maker's stories. The first one centers around a leprechaun fable, a family, and one very creepy doll that may or may not be, in fact, a leprechaun. The tone of this one is realistic and serious. This one lagged a bit as it was setting up the story via serious conversations. However, there is a big pay off when the action, involving an evil leprechaun doll, finally starts.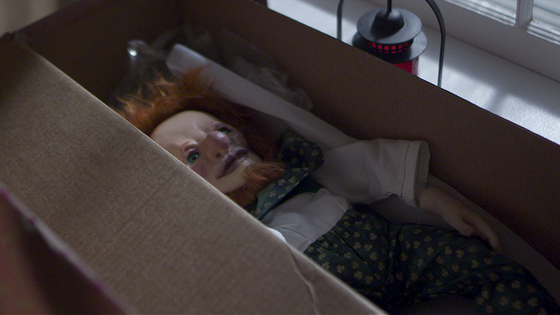 My favorite story of the anthology revolves around a doll collector and con girl with a damaged doll that she cares just a little too much about. This story has a taste of weird and camp to it that I loved. Set at a convention, there are costumes, more dolls, and a bit of situational humor. There's an element of "is this happening or are the people going crazy?" vibe to it. It also has a creepy and emotionally possessive doll perfectly voiced by one of the script's writers, Yasmin Bakhtiari.
Although the low budget elements are detectable, Evil Little Things has some great things going for it. The engaging actors, the story itself, and the very creepy looking dolls all stand out. All the stories are written by Yasmin Bakhtiari and Nancy Knight, which helps to give the film a more cohesive feel. I enjoyed Evil Little Things. If you are a fan of genre films, creepy dolls, and anthologies, then check this one out.