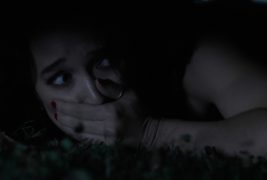 One of Uncork'd Entertainment's latest ventures into the world of thrills and chills is Getaway, an abduction film that isn't afraid to stretch its legs and have some fun with the genre we love.
Directed by Lane Toran, the film tries to deviate from your average slasher-type stereotypes with varying degrees of success. Most readers my age will know Toran as the voice of the title character in the animated series Hey Arnold!, but for a first-time director, Toran deserves a fair share of accolades.
Getaway follows a young woman named Tamara Miller, played by Jacelyn Betham, who also wrote the script with Toran. Tamara decides to let loose and enjoy a weekend of bikinis and drinks with two of her friends but those plans are foiled pretty quickly. A local family that's just a little fanatical and diabolical kidnap Tamara, planning on making her one of their "angels" to send up to Heaven. It turns out that Tamara isn't the sort of lady to mess with. Betham puts forth an excellent effort as Tamara and I wish her character had more license to stretch out and be even more.
The film struggles where most independent films hit a pothole, namely in matters of script and dialogue. The film does, however, try to keep things fresh and audiences guessing. Whether that works or not is something I'll leave up to my fellow horror lovers. Talking too much about it here will spoil a few things. I'm nothing if not a courteous horror fiend. However, I feel it necessary to say Getaway may have the most creative and awkward masturbation scenes in the history of horror cinema. Moving on….
Perhaps the biggest fail the film falls victim to is not giving Scout Taylor-Compton a bigger role. Her name is well-known within the horror industry and she has the chops to carry a film. Here, she's a bit-player. There were likely financial and scheduling restrictions that kept her from being on set every day, but the filmmakers would have been smart to give her a more prominent role in the grand scheme of the movie. As a sucker for bad ass women in horror, there was far too much meat left on the bone for my liking.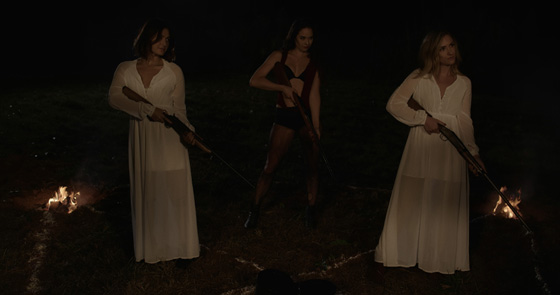 I was really impressed with the cinematography of the film, as well as a lot of the artistic decisions Toran and the crew made. The first-time director seems to "get it," with a good eye behind the camera and an overall zest for the genre. I hope this isn't the last we see from him in horror. I look forward to future projects by this crew.
I enjoyed the supernatural element of the story and thought there was some really exciting opportunities there. Getaway doesn't swing and miss on these, but with more experience as a filmmaker and perhaps a little more time in the writing room, Toran can really flesh these out. As a viewer, I saw what he was going for and I really wanted it to get there, but there were some flat spots that I feel are forgivable to a degree when it comes to independent filmmaking.
The three leading ladies of the film definitely deserve kudos for a job well done. Betham, Taylor-Compton and Landry Allbright show that they can carry an indie horror flick and I wish they were given more freedom and more weight to work with here.
All in all, Getaway has some teeth and that's to be applauded. If you're looking for a thriller that mixes witchcraft with hillbillies and throws in a fun little curveball, check this one out.