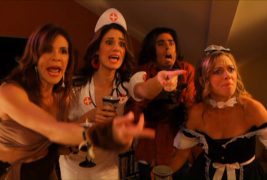 Linda Palmer's Halloween Party is the story of a night of debauchery and self-discovery amidst costumes, booze, and music on the scariest (and most fun!) night of the year. But, for one woman on the hunt for a good man, it seems like it'll be a dud night like any other. Will the spirits lead her to true love or leave her in a grave state of loneliness?
Ben and Julie (Chris Pentzell and Christine Blackburn) are well known for their Halloween parties. Nevertheless, this year promises to be the biggest bash yet. To capture every moment of the party, Ben has rigged secret cameras throughout the house. They invite their friend Erin (Elle Newlands), who's had a string of bad relationships and is on the lookout for her perfect match, with very little success. Even her costume reeks of desperation, dressed as a human "stud finder."
Once at the party, she is disappointed to learn that her ghastly ex has also been invited. In a moment of desperation, she takes as her date a homeless man (Frank Gangarossa) she meets in the alley outside the house. As with anything on Halloween, not everything is as it seems.
Halloween Party's repertoire of characters is pretty straightforward and stock; however, they are not as clichéd as one would assume at first glance. While there is often tension, there is never really any malice to push the plot forward. In this regard, the film's characters' interplay feels more realistic and nuanced.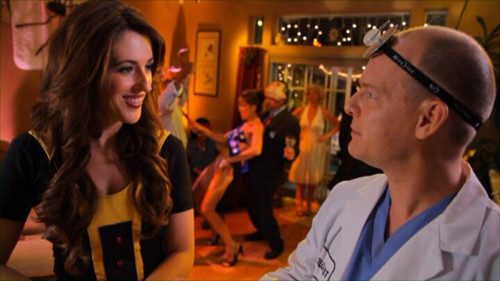 One of the most interesting aspects of Halloween Party is that while the main action takes place in the traditional style of a film, there are also voyeuristic moments of relief from footage recorded by the hidden cameras. These vignettes are interspersed throughout the film as occasional non-sequiturs and occasionally topical, though most always with a touch of humor.
The paranormal aspect of Halloween Party is surprisingly small and limited. One could almost say it's absent, save for a few perspicacious Tarot card readings. Nor is there an abundance of horror, gore, or suspense. This film doesn't really need it, as Halloween is the ideal backdrop for human drama—a seasonal metaphor for the masks we wear in daily life.
Halloween Party isn't the typical fare of a horror addicted Ravenous Monster reader, but it's still a good movie to watch and enjoy. Solid acting and fun characters and dialogue make this movie worth it. Get into the Halloween spirit and watch it!