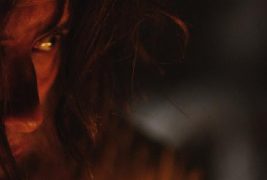 The Dances with Films Festival will host the world premiere of Central Park—the directorial debut of actor Justin Reinsilber.  Central Park is a timely reconfiguring of the slasher archetype and it's time to see of the production buzz translates to the silver screen.
Read the full press release and watch the trailer below, Horror Fans….
Los Angeles, CA – Feast and Bourbon Films has announced the World Premiere of Justin Reinsilber's Central Park at the 20th Dances with Films Festival.  Set and shot in the titular 843-acre park, the film stars a group of exciting young actors as the unwitting prey of a vengeful madman.  Central Park will premiere at Dances with Films at the TCL Chinese 6 Theaters June 3rd.
When a New York billionaire is disgraced by the collapse of his Ponzi scheme, the devoted friends of his teenage son rally around him.  As the doors of their gilded world shut to him, they set out for an epic night in Central Park to blow off some steam. Little do they know the consequences of his father's crimes will go far beyond his client's bank accounts.  A vengeful soul waits in the trees, and the sins of the father will soon be visited on all the children with the help of a sharp blade.
Justin A. Davis ("Boardwalk Empire", Catfight), Ruby Modine ("Shameless", Half to Death), Grace Van Patten (Tramps, Under the Silver Lake), Malika Samuel ("Orange is the New Black", "Unbreakable Kimmy Schmidt"), Guillermo Arribas (The Awakening, Preppie Connection) and Deema Aitken (The Sisterhood of Night, Nerve) headline the cast as privileged teens blowing off stress in the park.  Reinsilber, a long-time actor, makes his directorial debut with his own script and producing partner Melissa Chamberlain.