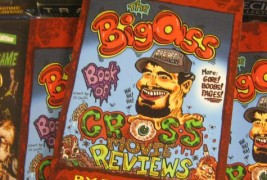 Movie watching is one of our most enjoyable pastimes, one that will continue to occur regardless of the changing methods we use to obtain those videos.  Small movie stores once acted as second homes to us, where we would spend our time looking at the back of VHS boxes to rent our favorite horror flicks.  As time progressed and technology hastened, those once booming movie stores replaced VHS with the DVD format, and later blu-ray.  That was, until the movie store itself was replaced by not only the interactive availability of Amazon, and Netflix but also by the little red box we've come to know as Redbox.
Tim Gross, a Pittsburgh movie reviewer with a predilection for horror, has managed to get his hands on the movies from his preferred genre, regardless of evolving trends and technologies.  In fact, Tim's managed to parlay his search for and analysis of horror flicks into a part time career, becoming a pseudo-celebrity and a staple in horror convention circles.  When you think of Tim, it is best to visualize a tall, mountainous fella with a friendly smile, who just may be sipping a beer while talking excitedly about horror movies.  Read on and step into the shoes of one of Pittsburgh's local horror movie buffs….
RavMon:  Tell Ravenous Monster readers a little bit about yourself.  Do share a mini bio with us…
Tim Gross:  I'm a lifetime horror movie and film fan in general since three. Ever since I got to see my first episode of Chiller Theater with Chilly Billy I was hooked on monster and horror movies. Then, not too long after I got to see such films as Godzilla, Night of the Living Dead, Friday the 13th, and Halloween. This only expanded my universe of love for horror films. The more I got to see on regular TV, the more I wanted to see period: late at night, weekends, cable, as long as I got to see horror films.
I lived in Pittsburgh all my life, and, of course, we all love our Pittsburgh zombie films.  But I have been a fan of the genre all my life and wrote a lot in school and outside of school that was horror related. None of it really clicked until I really sat down and started writing movie reviews (Gross Movie Reviews). I'm just a horror fan or geek living a dream of meeting celebrities when possible; I have a published book, several self-published books, have been in over 15 independent film productions, and have even finished my first short film. Like I said, I'm just a horror fan that loves his beer and is looking for the next sequel to Leprechaun or the Puppet Master Series.
RavMon:  How long have you been reviewing movies?  What compelled you to start?
Tim Gross:  Well, in the late 90's my friend Charles Fleming and I use to write a free wrestling newsletter, up until about 2000 or 2001, called The Incredible Strange Wrestling Report.  It had over 500 people in several states at one point.  This was about the time Charles and I were helping out with a film production or two for Happy Cloud Pictures (Mike Watt and Amy Lynn Best).  Since my friend and I are always joking around and were messing around on set with Mike Watt, he decided to have us start doing some behind the scenes filming of actors, interviews and how special effects for the films were made. And Charles and I looked at each other and came up with "Bastards of Horror" as a nickname. Charles was trying to come up with a website name for horror movies where we could write articles and things of that nature and used the "Bastards of Horror" name knowing that it would be us two running it.  This was a perfect name.
With the "ISWR," gone we wanted to still write but about our other passion — horror movies. This is where I got the idea to just start reviewing movies. Mainly, because I love watching movies and at the time read several horror review books and thought they were too wordy, talk down to you as a reader, or just bitch about everything. So I wrote a few reviews and posted them on the newly born www.bastardsofhorror.com in 2002 and 2003 and e-mailed them to friends.  People laughed and loved them. I kept getting comments that I should write more. So, the next couple years I wrote more and more and eventually came up with doing a book about late 2004, early 2005.  When I showed people the first draft, they told me they would buy it if I got it out there.  From there, Gross Movie Reviews was born. 
RavMon:  Is there a certain favorite movie that you have?  Or is this a difficult question given the number of films you have seen and reviewed?
Tim Gross:  It's not so difficult as much as there isn't just that one film. But I love John Carpenter's Halloween and The Thing. I may have watched The Thing more than any other film ever.  Every time it's on, I have to stop and watch it. But there are always several I could name and I feel bad if I don't throw them out there: Evil Dead 2, Creature from the Black Lagoon, Night of the Living Dead, Friday the 13th, A Nightmare on Elm Street, to name a few.
RavMon:  Do you prefer mainstream movies, indie films, or another type in between? 
Tim Gross:  No Preference, I think it's more of a….mood?  Sometimes mainstream can be boring.  You can really find some interesting independent films such as Holy Shit… Zombies, Woodchipper Massacre, Nailgun Massacre, etc. But then again, I could turn around and wanna rewatch Star Trek 2: Wrath of Khan or Raiders of the Lost Ark or Animal House. I just lean towards horror films at times because they just fascinate me so much with how they are made, how the effects are done, and make you wonder why didn't you get a Rutger Hauer or Lance Henriksen instead of this dumb ass? I don't know, for me horror films are in my blood. When I remember my dreams after I wake, usually I was dreaming about certain horror films or scenes. When I was a kid, I could not get enough of horror movies; I was buying three or four different horror magazines on a weekly basis for awhile. I would buy horror comics and rent at least two horror movies every weekend. Horror movies just seem fun to me.
RavMon:  How do you feel about Redbox and the ability to rent films (cheaper) and those that are a bit less mainstream?
Tim Gross:  I'll be honest; I do not think about it too much and just look at it as another way for people to get their hands on lesser known films… And that is good in the long run because I felt in recent years it was getting a little harder to find those unless you really went looking. But with technology changing so much and companies trying to stay one step ahead of hackers, bootlegs, or whatever, it was going to happen anyway. But as long as it isn't Blockbuster, they could put a Redbox on every corner!
Blockbuster can suck me because they had a huge hand in the beginning of the end of ma and pop video rental stores. But I do believe there is room soon if not already for an independent rental store to be in the marketplace, just have to have a little business sense and I believe it could work. I mean honestly, I wouldn't be surprised if Redbox is replaced by something else in 18 months, if not sooner?
RavMon:  What is your favored way of accessing movies for review of your books?  Amazon?  VHS?  Redbox?
Tim Gross:  All of the above!  But honestly, people will find this strange — I have never rented from Redbox or Netflix for that matter. Hell, I even visit the local Family Video since there aren't any independent rental stores in Pittsburgh. I get a lot of screeners from independent distributors; I have bought way too many movies from Amazon, I love On Demand for the great recent stuff that might be outside of the "Twilight PG-13" realm at the theaters. And I still love finding a VHS I have never seen, that brings the kid in me out. I have nothing against Redbox; I just don't have the need for them.
RavMon:  What do you do in addition to writing film reviews?  What types of projects do you expect to be doing in the future?
Tim Gross:  To be quite honest, at times I have no clue… I love writing reviews and when it becomes too much work or isn't fun for me anymore, I'll quit and go away. But I review comic books, books, scripts… Since I got published and this last book I put together The Big Ass Book of Gross Movie Reviews got out there last summer, I have gotten asked to review or look over so many things other than just films. As long as they understand movie reviews are my thing, I go ahead and make time for it, check it out and give my honest opinion about it. My latest book has opened a lot of different doors for me I never thought I would see open. It's hard to explain unless you have done it the way I have done it. Mainly, I do it the way I enjoy, have no regrets, give an honest opinion, and if the mainstream doesn't like it, fuck it… I'm still having fun!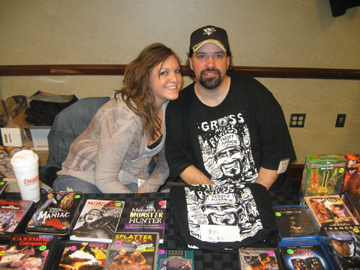 It's weird, I finished a short film that I just had rolling around in my head this year, but was given the equipment and found the right people just because Gross Movie Reviews is something people are starting to take notice of. It's weird to me still because I'm living the dream of being a part of the horror genre whether it wants me or not.  I have found a way to do horror related things all my life that I always wanted to do and when I think I have gotten to do everything I thought I could do, then all of a sudden I do something else horror related that I didn't think possible. I thought no one would read my reviews and they read them. I thought I wouldn't be able to sell a book and it's been tough but I have sold over 700 in seven years, I believe now? Like I said, I am living the dream, does it suck ass that I have to work my ass off to barely pay bills, hell yes. But I now have somebody asking me to help direct their feature and my response was, "Ok… you know I just figured out the record button right?"
RavMon:  You have interesting illustrations done by Ed Quillin.  How did your collaboration begin?
Tim Gross:  Holy Shit! Funny ass story! I just finished getting my second book and was driving back from the Cinema Wasteland convention with my friend Charles Fleming and it was the one of the first conventions I had paid for a table at to try and sell my books. Charles and I stopped at a rest stop on the turnpike coming from Strongsville, Ohio, and Charles went to get something to eat.  As I went back to the car, here comes Ed Quillin running up to me, screaming at me, "Dude, I missed you at the convention and wanted to buy a book off of you!" We go to my car and he bought two books off me out of my trunk.
Charles, of course, made fun of me the whole time after but Ed and I became fast friends. We would hang together at several conventions and movie events and when I was getting my Gross Movie Reviews Volume Five book together, I wanted to do something different but wasn't sure what.  Well, Ed and I were sitting at Steve's Inn in Oakmont drinking before a movie event and he drew me some pictures. I told him they looked great and he was about to throw them away. Why? I have no clue.  He said they sucked. So I convinced him to draw me something for my book and, maybe three or four months later, his art was the cover of my book. His artwork is beautiful and Ed doesn't give himself enough credit.  This is why I will always have him do the artwork for any of my future books!
RavMon:  Can you share with us just one of your reviews, perhaps one that you are the most proud of or one which really strikes at your purpose in regards to film reviewing?
Tim Gross:  "The Woodchipper Massacre (DVD) – Recently, I just reviewed the VHS copy again and found out somebody was releasing this unknown classic on DVD, so it was time again to review the world's greatest bad horror film! Why? It is so bad it is great! It is the most bloodless 'massacre' film ever made! And we owe it all to Jon McBride. The film is about a father going out of town leaving his teenager son and two other kids in the hands of their aunt for a weekend. Well of course, the aunt is a tight ass and making the kids do house work, until when the one kid gets the 'Rambo' knife in the mail and his sister accidentally kills the aunt. What should they do?  Eventually, they figure out they should throw her through a woodchipper they have out in the yard which has "one drop of blood!" Her son comes looking for her and the same fate is for him also! The film is horribly great and becomes funnier with each watch as I have seen it now 6 times in the past two years or so! But the great unknown classic isn't all you get on this DVD, you also get commentary from McBride himself and an interview from a bad movie host.  McBride, who took the filming very serious, understands what the film actually is and is pretty cool about it. Just to find a guy that made a bad unknown film alone was great in its own right and the interview and commentary alone is well worth double the price of this DVD! It is a movie for the whole family to watch! You know you are interested in the film if I never stop talking about it so go get your copy now at www.campmotionpictures.com as I give this DVD 4 stars!"
(Because of this review Jon McBride tracked me down and called me and we have become good friends and talk on a regular basis about all kinds of movie related things. It's not everyday you get a call from someone you look up to or enjoy their films).
RavMon:  Tim Gross, you have a name that horror writers across the world would change their own names for.  Is that your real name or is it a pen name/alias?  If you are hiding from aliens or the law, we will omit this question…
Tim Gross:  No. That is my real name. I was born with it. People ask me that all the time and I struggled at first what to call my reviews and a good friend (Roger Beckett) at the beginning said, "Why don't you call them Gross Movie Reviews?" Why change it when I have had it this long?
RavMon:  Do you have any advice for fellow movie reviewers of the future?
Tim Gross:  Always have fun with it and believe in what you write.
RavMon:  How can anyone find your books or contact you with any questions they might have? 
Tim Gross:  Well, you can find The Big Ass Book of Gross Movie Reviews at amazon.com or track me down at a horror convention where I always have copies for sale and it saves on shipping. But you could always check out the website I share with Charles Fleming at www.bastardsofhorror.com or check out the new horror related podcast I have just started with two friends, Kyle Poling and Cory G., at bloodbathsandboomsticks.blogspot.com.  For comments or questions you can find me at www.facebook.com/grossmoviereviews or at [email protected] (email). 
RavMon:  Is there anything you would like to add for our readers?
Tim Gross:  Remember folks, always support your local independent movie theater, independent video store, and independent filmmakers! It will keep horror alive….