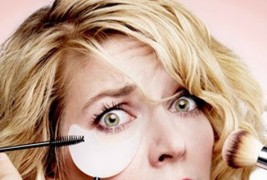 We're all familiar with horror movie clichés. Let's face it, fright films may be the most parodied of all genres.
The Wayans brothers and their affiliates turned the Scream franchise into comedy gold with their Scary Movie collection. Cabin in the Woods ranks as both parody and classic. Slither is sensationally funny and cynical. And if you haven't seen it, do yourself a favor and check out the unfairly ignored Behind the Mask: The Rise of Leslie Vernon. You'll thank me. (You're welcome.)
The list goes on, which brings us to OMG… We're in a Horror Movie!!!. Classic? Not even close. Comedy gold? Barely bronze. But parody it is, and there's just enough something in this low-budget, first-time effort by director Ajala Bandele to hold your attention.
The opening is a bit contrived and wooden, but it does serve to introduce our quirky cast, led by heartthrob Tom (Brendan McGowan) and sassy, saucy Jesse (Sharon Mae Wang). The rest of the ensemble – Nils Jansson (Kyle), Shanna Malcolm (Tanya), Liz Fenning (Amy), Chris Hampton (Chris) and Mr. Bandele, pulling double duty as AJ – join those two in a board game that's about to take a dark turn.
Kyle, one-part geek and two parts evil, rolls the dice (three of them) and musters up triple sixes. Uh huh. You hear a loud, trailer-style voiceover and then Kyle mutters some mumbo jumbo about mayhem while teleporting hither and yon. The others soon catch on to what's about to unfold: They're trapped in a horror movie, and each has a stereotypical role to play.
AJ and Chris, both black, have one of the funnier bits, trying desperately to conjure up a previous horror film where a brother survives. As they strike out one title after another, they realize it's time to flee.
Amy, Tom's sexual predator, is dispatched to her home and is the first to meet her maker. Well, sort of.
Tanya, too, goes home and is blogging the events of the night furiously when, naturally, the lights go out. She tries to foil the killer with one alternate source after another – flashlight, cell phone, glow sticks and … well, let's just call it a glow-in-the-dark personal device that shall remain unnamed.
Tom and Jesse assume the roles of hunky male lead and loving counterpart, thinking that's their ticket to survival. Aren't those the two that always manage to escape the killer's clutches in horror movies? But, there's one little problem: Jesse is a self-professed lesbian. So, a bedroom romp ensues that they hope will buy them some security.
They eventually hop in the car and hit the highway. Along the way, they encounter Amy and Tanya, now zombies, and several unfortunate pedestrians. In one of OMG's funnier scenes, the pair discover the film's soundman lurking in the back seat. Jesse, showing off a newfound streak of viciousness, stabs him to death. No soundman, no sound, right? Suddenly we're reading subtitles. Ahhh, now that's good stuff.
Eventually, they wind up – where? – at a cabin in the woods, as does the rest of the ensemble, including Chris and AJ. The final twist involves those two in a funny, if predictable scene.
Now, none of this is to suggest OMG is a good movie. It's cheesy, clunky and cheap – for the uninitiated, sort of a pig in a poke, But what saves its bacon is a quirky, if uneven, cast that clearly buys into the concept. These folks seem to be having a great time, and that's a bit contagious.
I guess when all is said and done, I'm kind of, sort of, hesitatingly recommending this.
Oh … my … God.