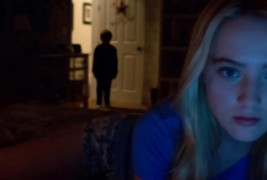 Paranormal Activity 4: The movie that huffed and puffed but didn't blow anything.
[Insert your Ex-wife joke here]
If you're reading this, then you already know the PARANORMAL ACTIVITY series, and I don't have to give you any background on the five Ws. If you need a recap, my reviews of PA2 and PA3 can be found here and here.
A wise man once said, "In America, you use movies to make money, here, we use money to make movies." PA4 is the perfect example of this. Just like bands manufacturing albums because they're making too much money to give a creative shit, I feel like we are getting stroked into the theater just to make our collective purse a bit lighter.  Although, there may be hope if my high-school Spanish is on target (more on that later).
My mind feels thoroughly empty after watching this movie. If you crunch the numbers on this series like I have, then you know it is a money-making machine. And this being America, it is no surprise that while the overall quality of the film has diminished, the money is still pouring in. Please send your hate mail to [email protected].
This flick starts out like all the others. It's set in a beautiful suburban home, surrounded by the very best that technology has to offer. The use of a stationary camera is evenly matched by the use of a High-Definition, first-person camera filming this time around, and the new "X-Box infrared cam" is a visual creative treat. I tried to get a cool screenshot of it with my phone for you guys while watching it in the theater, but I was immediately distracted by a squeaky voice telling me to "Please come with me, sir." It was nothing a good ol'-fashioned, "Fuck-off, kid.  I'm busy here," couldn't take care of, though (true story).
We are now voyeurs in a house across the street from the home of virtually-vacant Aunt Katie (still played by the now slimmed-down Texan, Katie Featherston) and her now talking, kidnapped little twit of a nephew, Hunter, now called "Robbie." The main players in the groove are "Alex" and "Alex", tech-y teens that seem more like friends than boyfriend and girlfriend. Boy-Alex, played by the fresh Matt Shively, is awesome in this. He is the quintessential teen trying to get on the girl-next-door.  He's friggin' hilarious and I'm positive, going to be your favorite.
This movie is far funnier than the sum of the others and way funnier than it is frightening. The writers had their finger on the pulse of internet and tech humor, and use the same time-tested scares from the other movies, but fail to introduce something new, which I think you need in order to keep us coming back to the theater for the obvious future jaunts in the franchise. Yes, I do like to see people play "Human-Roomba" throughout the house, but at least throw a dog a bone to keep me interested. I was very surprised on the lack of "jumps" in this, and even though it is fantastically funny, I'm still left under-nourished. After all, I was there to be scared. The movie is called PARANORMAL ACTIVITY, not Adam Sandler's Schlip-a-dee-Dip-a-dee (Worst.  Example.  Ever… I know). Though, Sandler's movies are Frightening. Frighteningly sad.
Overall, PA4 is funny, but not as scary as the previous movies and it begs more questions without answering any previous ones.  And, as always, it was a fun experience seeing it in a crowded theater with all the laughing and I still recommend seeing it in that context since it's perfect for this time of year.
The two best parts of my movie experience happened before the opening credits and after the closing ones. During the previews, there was a trailer for the film A Haunted House – a parody flick of the PARANORMAL ACTIVITY series by Marlon Wayans that looks hilarious and drops January 11th.
And…
SPOILER ALERT:
…After the film, I was sitting in my seat while the credits were rolling, writing a few notes, and honestly wondering if zit-face and the Feds were behind me waiting to bust me for fraud, when the movie jumped back on the screen.
All of a sudden, we see a first person video-view through a shaky-cam inside a bodega filled with a beautiful array of multicolored Saint Candles and religious paraphernalia.  The camera is fluttering around the aisles for a few seconds when an obviously panicked woman enters frame, looks at the person filming and says, "Esto es solo el principio."
If your Spanish isn't all that great, I'll let you translate that yourself here.
I hope you have a terrible Halloween.