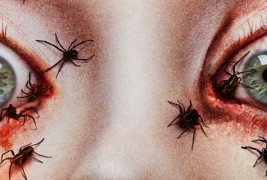 In case you haven't figured it out by now, psychological horror is kind of my "thing."  I'll watch anything, but nothing gets under my skin in just the right way quite like a good, meaty mind-fuck movie that raises some serious questions about the nature of reality.
So knowing that, it's probably not a surprise that I jumped on the chance to review Rory Douglas Abel's film Phobia – or that I loved it as damn much as I did.
Phobia tells the story of MacKinlay, a shut-in who hasn't left his home in over a year, when the trauma of his wife's death led him to develop severe agoraphobia.  Now he spends his days locked away in his late parents' spooky old house, a depressing historical behemoth that's filled with memories too painful for MacKinlay to deal with.  He keeps whole rooms covered in sheets so he won't have to confront the past he's locked himself in with.
And that's before the hallucinations start.
Because MacKinlay's not exactly alone in his house.  His wife is there, too, watching over his shoulder from beyond the grave, and she seems to be carrying a grudge against him for the role he played in her death.  And then there's the knife-wielding maniac in his kitchen.  Or are they both just illusions? MacKinlay can't keep it all straight anymore.
I won't spoil anything else, because the twists and surprises are too delightfully chilling to give away.  Just suffice it to say that things start going very, very badly for MacKinlay, and you're about to get dragged along for the ride.
Phobia does a handful of things very, very well.  It nails the utter, irrational terror of an anxiety disorder in a way that feels perfectly authentic, thanks in large part to a great performance by leading man Michael Jefferson.  It squeezes every bit of character and atmosphere it can out of the creepy house that makes up the film's entire setting.
And it absolutely excels at creating that gut-wrenching feeling of dread when you know something terrible is about to happen and there's nothing you can do about it.  It'll have you biting your nails and yelling at the TV, "No! Stop! Don't!" as you squirm in your seat.
And I'm not ashamed to tell you: The night I watched it, I kept the light on in the hall when I went to bed.  You know, just in case.  I can't remember the last time a movie made me feel so deliciously paranoid.
You can follow Phobia on Facebook here (https://www.facebook.com/PhobiaMovie), or go ahead and order it on Amazon (http://www.amazon.com/Phobia-Michael-Jefferson/dp/B00MIA0H4O).