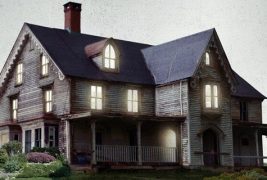 Restoration follows a long line of haunted house/creepy ghost-child-secrets films that have watered down the VOD and Red Box world over the last several years.  While the subgenre of the film is one that has been worn time and time again, director Zack Ward does his best to breathe new life into a storyline that flat-lined quite a while ago.
You'll know Ward from his work as an actor, where he has amassed over 100 credits on IMDB—most notably for most as everyone's least favorite ginger shit-head in A Christmas Story.  This being Ward's feature-length directorial debut, Restoration is a fun indie horror flick that does what many aren't able to do: keep the audience interested from start to finish.
James Cullen Bressack, one of the busiest indie horror film writers on the circuit today, scribed this film after meeting Ward and seemingly hitting it off instantly.
We meet Todd and Rebecca, a young married couple who just purchased their first home.  Sure, it's a fixer-upper and, yes, they aren't alarmed when they find over 400 stuffed teddy bears in the home (including one in the wall) because no home is perfect.  Like the film's tag line states, "Home Sweet Hell."
Rebecca (Emily O'Brien) is a doctor and Todd (Adrian Gaeta) is the husband whose job is to get the home in tip-top shape.  One day while tearing down a wall, Todd finds a teddy bear.  Later that night, during a spontaneous teddy bear fight throughout the home, the couple finds that there is actually a little girl's diary hidden in the bear's stuffing.
HORROR FILM ALERT!  Leave the house immediately and don't even think about popping the lock on that damned diary.  Oh, they are staying in the home and Rebecca got her blood on the diary cover while trying to pry the lock open with a butcher knife?  Never mind then.  It's about to get real.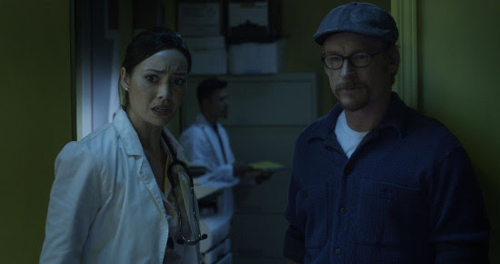 The new homeowners are welcomed to town by a pair of neighbors that I instantly disliked and pegged for weirdo baddies. Watch a hundred flicks like this and you know instantly that any neighbor that bakes you cookies and comes to your house for breakfast just isn't the kind of people you can trust!  Ward is not only the director of this film but also the husband Harold in the weird-neighbor combo, paired with Francine, played by Sarah Ann Schultz.
With the shifty-eyed neighbors a daily part of Rebecca and Todd's life, the diary revealing their home's dark secrets, and the ugly skeletons lurking in the closet of the town and townsfolk, Rebecca soon realizes that it's probably not the best time to be pregnant.  Of course she's pregnant!
Things get dark, twisted and even a little surprising as the film reaches a fairly satisfying climax that involves a little too much CGI, but an earnest attempt to deliver a shocking finale to a pretty good script overall.
The film is headed for DVD release on July 5 but it's available for On Demand viewing now.  If you love a good indie flick and don't mind some of the usual tropes that we see in these sorts of films, this one is worth the watch.  I look forward to seeing what's next for Ward and his promising directing career.