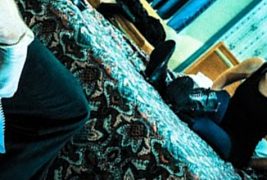 Artspoitation Films is arguably the number one distributor of strange, gonzo independent movies from around the world. Whatever Hollywood's ethos is, Artsploitation's is the antithesis of it. We've covered several of their releases here and win, lose, or draw, the one thing Ravenous Monster can assure you is that these movies are dangerous. They're risky. They're hella-weird. Yeah, hella-weird.
And that brings us to The Anatomy of Monsters, Artploitation's latest acquisition. Seattle-based filmmaker Byron C. Miller seems to have composed a high-concept, disturbing tale of predator vs. prey. Read on, Horror Fans for the entire press release below as well as the trailer for The Anatomy of Monsters….
Cannes, May 12, 2016 – Artsploitation Films has announced that is has acquired the North American rights to the edgy and dark American independent film The Anatomy of Monsters directed by Seattle-based filmmaker Byron C. Miller.
The film revolves around a seemingly normal yet homicidal young man who ventures out one night in search for his first kill. At a lonely bar he meets a young woman, takes her to a hotel room and prepares to slash her throat…until he discovers she harbors secrets far worse than even he could imagine.
Ray Murray, President of Artsploitation, called the film, "Refreshingly gritty, the kind of film John Cassavetes would have done if he ventured into genre filmmaking. The storyline is original, the tension palpable and it features a star-making performance by Tabitha Bastien as the far from innocent victim." He says of the director and co-writer Miller, "Byron ignored the constraints of his limited budget to make a creepy, dark, disturbing and immensely creative thriller."
Miller, who previously directed the feature Night and is currently attached to direct the genre film Unwelcome, called his film, "midnight poetry in that it attempts to create the feeling of late night hours and sinister urges," and commented, "It truly is an honor to work with Artsploitation Films and be included among their stunning library of titles. Paul Morgan (screenplay, cinematographer), and I put our souls into this film and brought it to life with a beyond dedicated cast and crew. I can't wait to share this monster with the world!"
The Anatomy of Monsters trailer:

The Anatomy of Monsters is scheduled to be released on DVD and VOD early fall, 2016.