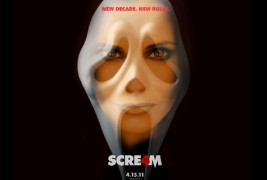 Whenever you hear 'Part 4' with a film, it's human nature to shudder. So I don't blame anyone for going into Scream 4 with skepticism. However, I went in with teenage exuberance – I seriously had butterflies in my stomach when the trailers ended and I heard the first sounds of a phone ringing.  I was not disappointed.
15 years after the original Woodsboro murders, Sidney Prescott (Neve Campbell) has finally come out of the darkness, literally and figuratively, by promoting her new book which tells her perspective of the original massacre.  It's only fitting that Sid's last stop on the book tour is her old stomping grounds.  It's also only right that Dewey (that's SHERIFF Riley, to you!), played by David Arquette, and Gail Weathers-Riley (Courtney Cox) are married and also living in Ghostface's hometown.
Sidney's cousin Jill (Emma Roberts) is the new black sheep of the town, with a direct bloodline to "the angel of death", as Sidney is known by the town's new batch of high school babes and stud muffins.  Jill has the usual bunch of high school pals – jailbait gals and smart ass guys who believe they can protect those gals.  But when guts start getting misplaced again by a new Ghostface, Sidney is immediately Target Numero Uno, back to being the tormented babe who has death seemingly nipping at her heels with every step and no one is safe!
Sheriff Riley is on the case, while newswoman-turned-writer Gail is foaming at the mouth not only to catch the killer, (by now one could argue that Gail Weathers is one of the most efficient villain hunters in horror cinema history, this side of Van Helsing) but to add a spark to her writing career as well.
Sidney, Dewey, and Gail offer comfy nostalgia, with Dewey's air-headed lines and Gail's wonderful bitchiness supplying the laughs. Sidney gets to kick some serious ass, and make room on your list of memorable quotes for Ms. Campbell after this one!
Scream 4's cast is top-notch.  Hayden Panettierre of TV's Heroes does an excellent job as Kirby, Jill's best friend and virtual reincarnate of Sidney's best friend, Tatum from the original film – a foul mouthed beauty who's more than willing to put up her dukes if need be.  Rory Culkin is entertaining rocking an Eddie Vedder 'do to play Charlie, an off-kilter movie buff – Randy Meeks would be proud.  But it's Emma Roberts' turn as Sidney's cousin that really gives this installment its life. Her character morphs splendidly as the film evolves.  Kudos goes to the brains behind the film for collecting the same kind of great up-and-coming cast as they did for the original.
With a robust body count deliciously seasoned with intense deaths and lots of the red stuff, Scream 4 truly does a solid job of keeping the audience guessing.  And without giving away any spoilers, the "rules" are as important as ever.  Credit has to go to Wes Craven and Kevin Williamson for reviving a franchise that writer Ehren Kruger tried his best to kill with his much-maligned third installment.  If you're as fortunate as I was to see Scream 4 in a theater that resembled the madhouse theater in Scream 2's opening scene, the atmosphere only adds to the experience.
It's hard to keep things fresh after an innovative original, and while Scream 2 was a blast, I will be putting Scream 4 right beside the first film. Scream 4 not only stands tall alongside the new millennium's horrors, it also breathes new life into a helluva fun franchise. I'll be waiting with bated breath for a fifth installment.