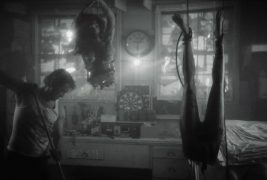 Kyle Broom takes art to a whole new level with his latest film, the thriller Tabloid Vivant.
Sara Speed (Tamzin Brown) is a young and eager art critic who is enamored with her love interest's tests of art's boundaries. Maximilien Klinkau (Jesse Woodrow) is the hunky-fella type whom you'd imagine is used to having women fawn all over him. His connection with Sara is instant and intimately passionate.
Maximilien is determined to gain exquisite fame and he'll stop at nothing to achieve it. His radical ideas on transforming the art world forever are met with an unhealthy fervor by Sara, who sees this as her golden ticket to make a name for herself as a critic. Soon the couple falls deep into a dizzying nightmare that threatens their relationship, sanity, and lives.
Brown and Woodrow are phenomenal in this film, delivering performances that are award-worthy. There clearly was a strong professional relationship built between the two of them and it shows in the final product – it allows the film to grow organically, without awkward or forced character development and it also makes these characters seem real, and all the more unsettling. The scariest thing about this film, for me, is just how well these two characters embrace the madness that they are creating.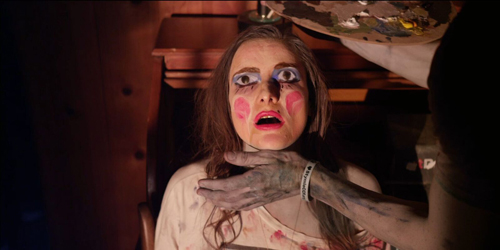 I will not lie – I am not an art major nor am I a huge fan of art films. But I know a good film when I see one and I believe Broom really did a wonderful job on this one, his feature-length directorial debut. There's a little bit of "David Lynch" in the film and I can see glimpses of "Clive Barker" in the darker moments of the film.
Beth Gersten does a wonderful job as set decorator and production designer, producing a visually appealing film that works as organically as the acting does. The cast and crew really go out of their way to produce an exceptionally well done project and that can't be overstated.
There is some ambiguity in the film's finale, which I appreciate because that's real life, isn't it? We don't get all the answers and it would have seemed a cheap attempt to satisfy the audiences if this film were neatly wrapped in a bow with all loose ends accounted for.
While this film may not fit under everyone's description of a true horror film, I would argue it's certainly right where it belongs in this genre. Tabloid Vivant is heavy on metaphors and artistic commentary and feels more like watching a college paper on film at times, but it's certainly one that deserves a watch. Treat your horror palate to something new and who knows, you might just fall into the depths of madness just like Sara and Maximilien. This isn't the type of film every horror fan will get behind, but it is what it is – and it does what it does quite well.