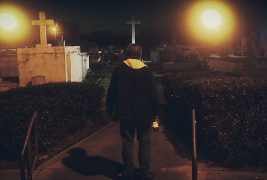 The Shelter—John Fallon's (Alone in the Dark, Saw II, Death Race) directorial debut—has been generating much buzz as of late. From positive early reviews and unanimous praise of Michael Paré's starring performance to the inherent value of offering up an original idea, something high-concept akin to movies like The Cube and Jacob's Ladder, The Shelter sounds like a genre movie worthy of excitement.
Read highlights of the press release and watch the trailer below, Horror Fans….
Uncork'd Entertainment has acquired US and Canadian rights to the horror-thriller The Shelter, with both a theatrical and digital release planned for the fall.
Written and directed by John Fallon and produced by Fallon and Donny Broussard, The Shelter stars Michael Paré (Eddie and the Cruisers, The Virgin Suicides) in one of his most acclaimed performances in recent times.
"It was very important for me to find a domestic distributor that understood The Shelter for what it was and that wouldn't try to rework it into something that it wasn't," says Writer/Director John Fallon. "I thankfully found that in Uncork'd Entertainment and I am beyond elated to move forward with them on the picture!"
In The Shelter, widower and homeless man Thomas Jacobs (Michael Paré) finds shelter for the night when he falls upon a vast two-story house with the lights on and an inviting open front door. He strolls on in thinking he just caught a lucky break and for a while, it would appear as though he did. But soon enough, he realizes that the house won't let him leave, as its doors are all locked while its windows cannot be opened or broken. Destiny has brought Thomas to this place. What does it want from him? Will he survive the ordeal?
Of his role, Paré said, "The Shelter tells a great and painful tragedy, not about global disaster or war or economic collapse but of the individual human heart. The human heart and soul is what all art seeks to unravel. Guilt, regret and shame kill the heart and soul. When our lower animal nature dominates our character our soul is lost."