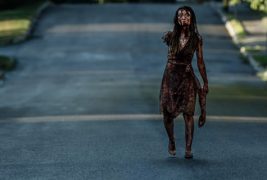 The good folks at Starz have released the opening credits for their forthcoming series American Gods based on Neil Gaiman's acclaimed 2001 novel and you can watch them below, Horror Fans!  Television credits aren't usually considered breaking news, but rest assured, these credits are at least worth a look.  Read excerpts from the press release and watch the video below…. 
Beverly Hills, Calif. – March 30, 2017 – One month out from the premiere on Sunday, April 30th at 9PM ET/PT, Starz has released the opening titles for the highly anticipated original series American Gods, produced by FremantleMedia North America.  The titles were created by Elastic. Fans get a first look at the opening for the series which pairs Old and New God relics in a totem of gigantic proportions.
"Is it strange to want action figures from a main title sequence? Crucified astronauts, neon cowboys and S&M centaurs, we bow to Elastic and their spectacular vision. A totem of godly visions we didn't know we needed to worship until they showed us the light with this clarion call to the 'American Gods'," said co-Showrunners and Executive Producers Bryan Fuller and Michael Green.
American Gods posits a different kind of war brewing—one between Old Gods and New.  The traditional Old Gods, with mythological roots from around the world, fear irrelevance as their believers die off or are seduced by the money, technology, and celebrity offered by the New Gods. Shadow Moon (Ricky Whittle) is an ex-con who, left adrift by the recent death of his wife, becomes bodyguard and traveling partner to conman Mr. Wednesday (Ian McShane). But in truth, Mr. Wednesday is a powerful old deity, on a cross-country mission to build an army and reclaim his lost glory.