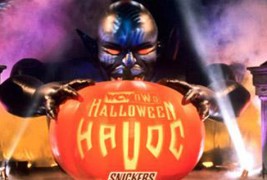 Pardon me real quick while I adjust my horn-rimmed glasses before starting. Now that everything is in place, I can begin.
I was into wrestling before it was cool. Before Hulk Hogan's heel turn at the 1996 installment of Bash at the Beach and before Stone Cold Steve Austin won the world title at WrestleMania XIV, I was begging my parents to buy pay-per-views and obsessively keeping tabs on my favorite wrestlers. Again, I was into wrestling during one of its many down periods.
There it is—out in the open. Most of my early memories, besides annoying my mother with endless renditions of "Love Shack" in the summer of 1989 or the 1992 Super Bowl, involve pro wrestling. More specifically, World Championship Wrestling, better known as WCW. Without realizing it, I was remaining loyal to the old territory system, whereby most the U.S. was divided up between promoters and their companies, who would in turn control their areas, or "territories," as small fiefdoms which operated under the conceit that wrestling didn't exist elsewhere. Pro wrestling historians are prone to saying things like "People in Memphis didn't know wrestling existed in Portland" or "People in San Antonio didn't know there was wrestling in Amarillo." Sounds pithy, but it's true.
The problem was that when I came around, Vincent K. McMahon, the WWF, and Hulkamania had killed the territories and replaced them with one massive product featuring larger-than-life musclemen and enough glitz and glam to drown the Sunset Strip. So, even though I stayed loyal to WCW, which, as a West Virginian, would've been my territory's promotion, I knew all about the WWF. I just preferred WCW up until about 1996, when I began dabbling beyond the occasional Undertaker match.
In particular, I loved Halloween Havoc—WCW's annual October pay-per-view that first aired in 1989. For me and plenty of other kids, the marriage of Halloween and pro wrestling was even better than the combination of peanut butter and chocolate. More importantly, watching painted up wrestlers or men in masks from Parts Unknown coming through a fog-shrouded stage replete with a giant pumpkin, tombstones, or, in 1998, a giant winged demon that bore more than a passing resemblance to Chernabog in Disney's Fantasia just made sense. Horror and pro wrestling are meant to go together like foreheads and concealed razorblades. Whether it's the outlandishness of both products, or maybe it's the shared lack of subtly, all I know for sure is that after watching Halloween Havoc, I'd either run up to my room to watch a horror movie on TV or put in a suitably scary video game and spend the rest of the night killing zombies or fighting other costumed foes in an inter-dimensional landscape known as Outworld.
Now, thanks to the WWE Network's library of old WCW pay-per-views, I've been going through Halloween Havoc year-by-year, from 1989 until 2000. In that time, WCW went from being a gritty brand of wrasslin' geared almost exclusively to blue-collar fans in the South and Midwest to a flashy and slick company featuring huge names and even bigger production costs. Finally, in the last two years, I unfortunately relived the precipitous decline that was the result of nonsensical or stale storylines, uninspired wrestling, and, frankly, the knowledge that the other companies (WWF and ECW) were making better and edgier stuff. Ultimately, all this research has accomplished is the creation of a small list of the highs and lows of one of the greatest pay-per-view franchises in pro wrestling history.
Here's the part of the list that's from a glass-half-full perspective. You're either welcome or I'm sorry.
Part 1: The Highs….
The Thunderdome Match, 1989
The main event of the very first Halloween Havoc, the Thunderome Match, which pitted Ric Flair and Sting against Terry Funk and the Great Muta, did not disappoint. Unlike a regular steel cage, the Thunderdome sported fake spider webs, a skull or two, and, worst of all, an electrified structure that would presumably fry the guts out of any wrestler who got too close. Although no one got cooked, the Great Muta did help to put out an accidental fire using his trademark green Asian mist (which in reality is colored water kept in a capsule). The match itself is a classic featuring A-level talent coming together in order to complete two different storylines. Oh, and for old school fans, the inclusion of Bruno Sammartino as a guest referee is an added treat.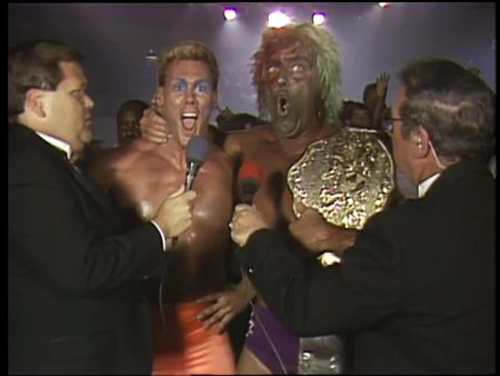 The Steiner Brothers vs. The Nasty Boys, 1990
There's no tie-in with horror here, unless you look too closely at the pasty and protruding bellies of Brian Knobbs and Jerry Sags. Nope, this match is pure aggression featuring four of the stiffest (that's industry talk for dudes who hit their opponents with serious force) competitors in the history of the squared circle. The crowd is alive the whole match, and the fact that the thing just drags on like an unwieldy fight makes it all the more awesome. This, my friends, is what pro wrestling should be like at all times.
The Unmasking of the Halloween Phantom, 1991
Before making Eastern Championship Wrestling, one of the last NWA affiliates in the Northeast, into Extreme Championship Wrestling, Paul Heyman, alias Paul E. Dangerously was a brash New York yuppie who set his sights on ruining WCW. In 1991, he began his war by recruiting a masked man named the Halloween Phantom. Near the end of the card, the Phantom came out to the sounds of Bach's "Toccata and Fugue in D Minor" and aped the movements of Lon Chaney's titular villain in The Phantom of the Opera. Then, after completely manhandling Tom Zenk (who would later wrestle as, I kid you not, The Z Man), the mysterious Phantom joined an animated Dangerously and the female wrestler Madusa during an interview. At this point, Dangerously revealed that the Phantom was actually Rick Rude, the hated heel from the WWF who was now dedicated to taking out Sting—the company's top man and the then United States Heavyweight Champion. The pair would have a great rivalry that lasted years, plus Rude's defection to WCW not only helped the company to gain more national exposure, but it also helped to establish the incredible heel stable known as the Dangerous Alliance (which, among others, featured a very young competitor named "Stunning" Steve Austin).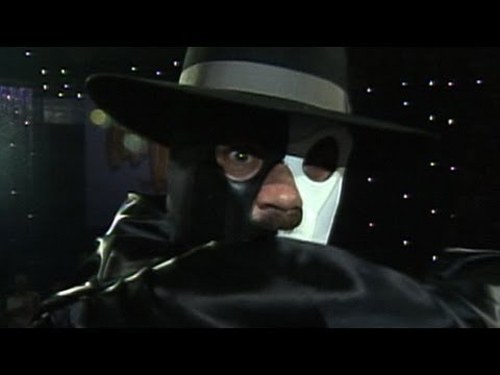 The Texas Death Match, 1993
1993 was a rough year for wrestling in general, but particularly rough for WCW. Ric Flair was back after a brief sojourn in the WWF, but due to contract stipulations, he had to sit most of the year out. When WCW tried to make a new hero out of the Shockmaster, he literally fell on his face on live television, thus making the character a byword for any goof or gaff that goes horribly wrong. The only thing going well was Big Van Vader—a 400-pound heel who legitimately kicked the crap out of his opponents. By October 1993, Vader, the world heavyweight champ at the time, was deep into his feud with Mick Foley's alter ego Cactus Jack. As Cactus Jack, Foley was known for taking incredible risks with his body, so having a storyline where Vader knocked Jack so silly that the latter developed amnesia made sense. (Also, Vader was partially responsible for the very real loss of Foley's right ear.) At Halloween Havoc, the pair duked it out in a bloody Texas Death Match that at one point saw the two pummeling each other inside of a prop grave on the stage. Although nowhere near as violent as some of Cactus Jack's other death matches in Japan, this match with Vader was plenty gruesome for most WCW viewers in 1993.
Ray Misterio Jr. vs. Eddie Guerrero, 1997
In one of the greatest wrestling matches ever, the lucha libre specialist Ray Misterio Jr. defeated the Cruiserweight Champion Eddie Guerrero in a Mask vs. Title match. On that night, Misterio sported a full purple bodysuit inspired by the comic strip hero The Phantom that helped to make his moves look even more aerodynamic than usual. For a 9-year-old, watching a guy barely bigger than my tween cousins do springboard summersaults and suicide dives over the top rope was awe-inspiring. This was wrestling like I'd never seen it before—fast-paced, super athletic, and entertaining despite having only a nominal storyline attached to it. This one's definitely worth a watch, even for non- or former fans.
Tune in next time for Part 2: The Lows….