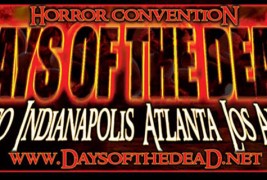 I was finally going to a horror convention.  After years of saying I would attend a show, finally, I decided to put some extra funds to good use and spend a weekend with my beastly brethren at the Days of the Dead horror convention Nov, 21-23, 2014 in Schaumburg, Illinois.
I had heard nothing but good things about the Days of the Dead family regarding their four years in existence and their stops in Indianapolis, Atlanta, Los Angeles and Chicago. The conventions promised top-notch celebrity interaction, awesome memorabilia, and—above all else—a fan-friendly atmosphere that promotes unity within the horror community. So I picked up a pair of VIP passes way back in April, requested a few days off of work, and made the quick trek down to Schaumburg, Illinois for three of the greatest days of my life.  This being my first horror convention, I arrived at the hotel with my girlfriend, with starry eyes and an omnipresent grin as I shouldered my way to the front desk, past all shapes and sizes of goths, hard rockers and horror characters.
My girlfriend, Krystina, was diagnosed with Multiple Sclerosis in February of this year. It has been two years of pain, anxiety, and uncertainty for the both of us while she has undergone countless hours of tests, treatments and analysis, and then finally getting diagnosed.  The week before the DOTD convention, Krystina was hit with her worst MS flare-up yet, a debilitating two-week attack that affected everything from her limbs and muscles to her motor skills.  Suddenly, pretend horror was the last thing on my mind and I was more than ready and willing to shelve our plans if need be.  Like the amazing badass she is, Krystina fought through the lingering symptoms of the attack and was able to be by my side the entire weekend.  By occasionally resting in our hotel room so she could take a medication or lie down for an hour or so, it gave me plenty of time to really reflect on the day's adventures.  And, holy shit, were there adventures!
On Friday, we arrived at the Marriott Chicago-Schaumburg Hotel at around 3:30pm.  The convention began at 5pm that night, with the first event I was looking forward to checking out being the Rocky Horror Picture Show panel (Barry Bostwick, Nell Campbell and Patricia Quinn) at 6pm. Upon receiving our room key, Krystina and I made our way to the elevators where I promptly bumped into Kane Hodder.  I feel I did a rather manly job of not squealing with excitement as I quietly marveled a gush to my girlfriend, "That was Kane Hodder!"  I wasn't even in the hotel for ten minutes and the horror fumes were already overwhelming me!
Having been a "travel day" for us and with a whole weekend ahead, Krystina and I passed on the Rocky Horror Picture Show panel and took our time getting ready to head down and attack the vendor booths with a zest never before seen from our debit card.
For all of you horror-con novices out there, I learned something very quickly that will prove to be invaluable for the rest of my horror-con days: If you can manage to get to a convention on its first day, which usually is a Friday, DO IT.  Not only do you get the first crack at vendor's goodies, but the lines for celebrity signatures are ridiculously quick and smooth.  This allows for more time to chat with the celebrities without a horde of fanatics behind you prompting the celebrity to speed up the pace.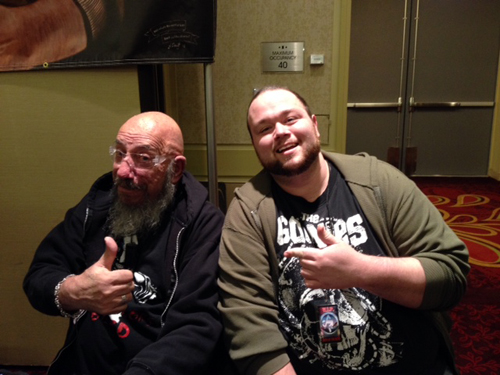 I had the awesome fortune of meeting Sid Haig (Spider Baby, House Of 1000 Corpses, The Devil's Rejects) and not only getting an autograph complete with the epic inscription "I'll fuck you up!" but several photos with the iconic clown.  Tootie-fuckin'-fruity.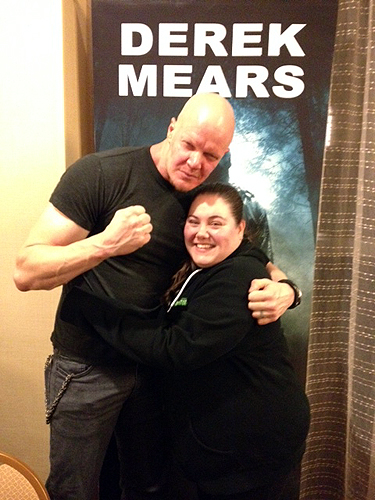 As we walked through a hallway of vendor booths, I noticed a very tall man (which I notice quite easily, seeing as how, in the boots I wore that night, I am roughly six-foot-four) laughing and talking with a small group of people.  Holy crap, it was Moloch himself!  There are only two names I immediately think of when it comes to costume actors and those are Doug Jones and Mr. Derek Mears.  With Mears less than five feet away from me, some "fanboy" and "fangirl" excitement escaped.  My girlfriend and I are huge fans of the FOX series Sleepy Hollow and Mears plays quite a few roles in that series.  Most recently, he played the gorgon in last week's episode.  My girlfriend's eyes welled up and she clung to Mr. Mears as if he were going to blow away in the chilly Chicago wind.  Derek posed for photos and graciously signed a photo of himself as the Kindred, known to us Hollow-heads as The Headless Horseman when he is not-so-headless.  Mears was a true class act and I don't think I'll ever forget him looking Krystina in the eye and telling her, "This is why I come to these.  Fans like you make it all worth it.  Thank you."  Awesome.
Next up, we took a visit to Candyman, himself, Tony Todd's table.  This was where I quickly realized the benefits of coming early to a convention.  Even before obtaining the legend's signature on an awesome behind-the-scenes photo from the Candyman shoot, Mr. Todd and I spent a good ten minutes discussing everything from my Goonies shirt, to his latest project—a one-man stage production about the life of legendary boxer Jack Johnson, who was the first African-American boxing champion.  Todd's enthusiasm for the project was palpable and it was easy to see why so many consider him one of the most outgoing horror celebrities on the convention circuit.  His animated, detailed account of how they blew all of those bees up his chest-piece for the iconic shot in the film that made him famous was a real treat.  Another class act.
While wandering amongst the dozens of vendor booths and horror cosplayers, to my great surprise, I spotted John Russo sitting at a booth! Mr. Russo is the screenwriter of Night of the Living Dead and he happens to be an absolute encyclopedia of filmmaking knowledge and horror nostalgia.
Dee Wallace, horror's ultimate Bad Ass Mom, was the next beloved face I had the pleasure of meeting.  Again, with lines barely filling up as eight o'clock on Friday night neared, Krystina and myself had a great opportunity to stand and talk with Mrs. Wallace for quite some time.  She is a beautiful woman who is proof that the term "senior citizen" is only a label.  With the gusto of a twenty-something-year-old and a blinding smile, Dee was definitely a highlight of the weekend.  It was also pretty cool that I was able to land a killer, rare mini-poster-sized print of Dee's roles in Cujo and The Howling signed "To Justin, Bite me!"  Dee quickly became my favorite horror celeb.
Friday night wrapped up with some more vendor booth perusing, which thus turned into debit card swiping and, in turn, put a bloody cherry on top of one hell of a day.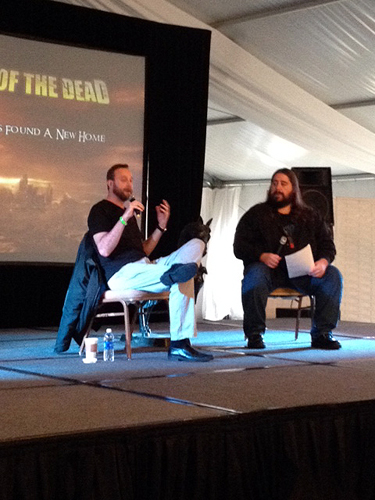 Saturday's festivities kicked off at noon for my girlfriend and me, as we were treated to an awesome panel with author John Borowski, who also happens to be an award winning filmmaker and a leading voice on historical horror.  Borowski exclusively focuses on American serial killers, pre-1940, where the evidence tends to be just as grainy as the photographs that fill his incredibly in-depth books.  To date, Borowski has created wonderful documentaries on H.H. Holmes, Albert Fish and Carl Panzram while also penning the most comprehensive accounts of two of the nation's most notorious killers, Holmes and Fish.
During the panel, Borowski elaborated on what got him hooked on studying pre-1940 serial killers (an affinity for the classic Universal monster films led to his interest in the equally Victorian-esque scenes of early American horror) and also discussed his latest project, a film called Serial Killer Culture which, as Borowski himself put it, "gives people who enjoy collecting artifacts from murderers a chance to speak and show that they aren't all twisted, sick individuals.  For them, it's just like you or I collecting baseball cards or stamps."
If you've never had a chance to sit down and watch one of John's films or read one of his books, you have no idea what you are missing—absolute must-see's for anyone truly interested in the mind of a serial killer.  You can check out John's website at http://www.johnborowski.com/.
Later that evening, the Days of the Dead VIP Party took place in an event tent just outside of the hotel.  With the night air blowing in the cold, the tent was perfectly heated and comfortable, even when it was full of undead fanatics!  The party gave those who purchased VIP packages the chance to mix, mingle and dance on stage to classics like "Thriller" and "The Time Warp."  Dee Wallace and Felissa Rose even got in on the action, with Wallace at one point yelling out into the audience, "Don't be a pussy! Get up here and dance, Goddamn it!"
Soon enough, a few of the folks who put together Days of the Dead stepped on stage and conducted a lively and very gracious raffle-thon that included two members of the audience winning LIFETIME Days of the Dead VIP passes to every show the convention company puts on.  The man behind the convention, Adolfo Dorta, enthusiastically handed out the prizes himself as he hopped up and down the stage, his love for the genre clearly electrifying him throughout the three-day blood-fest.
Sunday was here before we knew it and we were packing up our suitcases when it seemed we had just unpacked them.  Fear not, there was one more panel to attend and that was the highlight of the entire weekend.
Women of Horror was a panel that focused on three of the most well-known ladies of the genre working today; Ms. Wallace, Felissa Rose, and PJ Soles.
During the one-hour Q&A, Wallace, Rose, and Soles discussed their fondest memories of their most iconic roles while also telling behind the scenes tales that left the audience in awe and cracking up.  It was an awesome chance to see these women for who they really are—enthusiastic, passionate performers who cherish the opportunities given to them.  The panel couldn't have had a more warm-hearted trio than those three.
As we drove home, just a quick 45-minute trip up north, and as drizzle turned into sleet, my girlfriend and I were already reminiscing on the weekend experience.  It didn't take long for us to agree that we'd be returning next year.  It had been a long two years dealong with Krystina's medical conditions on top of the everyday drag that life has to offer from time to time, but this was exactly the sort of weekend we needed to regroup, recharge the ol' batteries and just enjoy some awesome time together, leaving all of the worries and stress back in our hometown.  For me, personally?  There's only one horror convention out there and that is Days of the Dead.  I suggest any horror-loving fanatic do themselves the favor and attend the 2015 show!
Please check out the Days of the Dead website at http://www.daysofthedead.net/.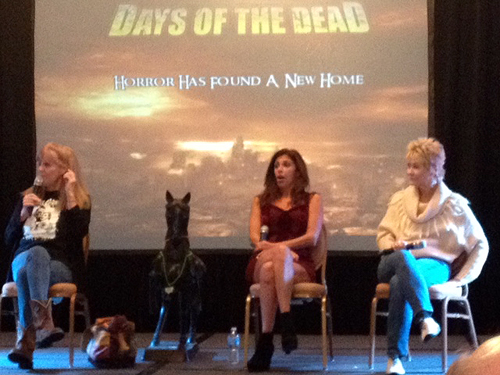 To finish off this piece, I'd like to offer a collection of quotes from the Women of Horror panel.
Dee Wallace on what the most important lesson of her career has been: "You must honor your creativity. You cannot let yourself get pigeon-holed by anyone."
Felissa Rose on her shocking role in Sleepaway Camp: "I was a thirteen-year-old playing a serial killer transvestite! You all just want to hear about my dick!"
Dee Wallace on The Howling: "It was in my contract, Lord knows why back then, that I would never be a full-blown werewolf.  So they made me sort of like a half-wolf, with big, poofy hair and the eyes."
Dee Wallace on the worst accident on a set: "A stunt woman got her nose bit off by one of the dogs on the set of Cujo. But they sewed it back on. She was fine! That's why they don't like actors doing their own stunts!"
PJ Soles on looking back on Halloween: "I sort of just glaze over my part in the movie and just really enjoy the film as a whole.  But every once in a while, I look back and see myself and think, 'I remember that girl… I remember that body.'" *cue uproarious laughter from Soles and the audience*
Dee Wallace on her role in Rob Zombie's The Haunted World of El Superbeasto: "All I asked was, 'Can I have the biggest boobs?!'"
Dee Wallace on the physically painful "window break" scene in Cujo: "When I play a character, half of me is that character and half of me is Dee Wallace.  So, as a mother myself, I was 100% mom in that scene where I had to break the car window and pull my son out of the car.  My mind just kept screaming, 'Get the kid out! Get the kid out!'  The window was never supposed to break for real, they were just going to do a slo-mo shot of me going to hit the window, but I actually blew out the window and just dragged that boy out of the car.  Finally, I heard people shouting 'Cut! Cut!'  I stopped, and an assistant came up to me and asked if I was okay.  I didn't know why he was asking, and then I looked down and saw my arms were torn up from the broken glass and I was bleeding down my forearms!  Wherever I'm going, you just gotta go all the way."
Dee Wallace on her role in the cult classic Popcorn: "Oh God, don't ask me about Popcorn… I don't remember. I was breastfeeding!"
Dee Wallace on her dream role: "I've always wanted to play a fucked up, psychotic nun. A real nun, though! Not some unbelievable character, but a real, fucked up nun."
Felissa Rose on her dream role: "I'd love to work with Tim Burton and Helena Bonham-Carter. I'd love to play a vampire with Helena."