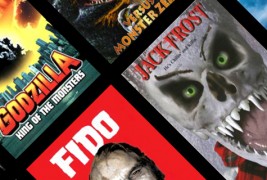 We at Ravenous Monster are about to let you in on a secret too good not to share.  There exists a bounty of horror movies that reaches epic, or more accurately, Epix proportions, that many of you have access to at a minimal cost, but about which few of you are aware.  Cryptic enough for you?  While you sit riveted to your chair by suspense, please allow me to start from the beginning….
The premium movie channel Epix is a relative neophyte among its peers.  Having launched in October of 2009, the upstart subscription channel currently boasts only a fraction of the subscribers that other exponentially better-established channels such as HBO and STARZ do.  However, when it comes to providing streaming access to its catalog of over 3,000 movies, EpixHD set the precedent by launching its streaming service at the same time the channel launched, beating to the punch services like HBOGO.
So what does this mean for horror fans?  Well, first we must look at the proverbial "man behind the curtain" of this operation.  I'm referring to the channel's holding company, Studio 3 Partners LLC, which is a joint venture between Paramount Pictures, MGM, and Lions Gate.  These production companies' film libraries as well as those of their many subsidiaries like United Artists are available for streaming in high definition via a free app that's currently available for PlayStation, Xbox, Android, Apple iOS, Roku, and Samsung Smart devices as well as through EpixHD.com.  All that's necessary is a subscription to one of the channel's participating television providers such as Charter Cable or Time Warner Cable.
By offering a minimum of 3,000 movies to stream—more than all other premium channels offer for streaming combined—EpixHD is a film nerd's rabbit hole.  Moreover, an unusually large percentage of these movies are horror flicks from all eras and subgenres.  Most of you are familiar with Lions Gate and its prolific churning out of genre material, and it probably wouldn't take a hockey mask and a machete to remind you what some of the big studios like Paramount were up to during the golden era of horror cinema.
Just to illustrate the point, HBOGO lists 33 movies in its Horror/Sci-Fi category and among them are movies like Gravity and Harry Potter and the Goblet of Fire.  Needless to say, neither of those titles will do much to raise your blood pressure and if you can find anyone dressed as Sandra Bullock in space gear for Halloween…well…congratulations, I guess.  But the point is that these aren't really horror movies.  Now compare that to the nearly-400 horror movies currently listed under the Horror category at EpixHD.
And just to give you a very random cross section of what's there, these include seven Friday the 13th movies, four Toxic Avenger flicks, four Howling entries, several Godzilla joints, weird creepers by filmmakers like Mario Bava and Jess Franco, exploit-o-trash like Sorority House Massacre (and its sequel) and Blackenstein, classic staples like Evil Dead 2, little-known Karloff pictures like The Ape and Voodoo Island, gritty gems like Don't Look in the Basement, newer indie fare like You're Next and  Jacob, and modern large-budget releases such as World War Z and Carrie (2013).  The depth and breadth of true-blue fright cinema available at EpixHD is impressive by every measure.
Some of you may be thinking, "I've seen some of these on Netflix, so what's the big deal?"  The big deal is that both Netflix and Amazon Prime have contracts with Epix to carry a limited number of the movies from Epix's catalog for a limited time.  But if you want access to the whole thing, EpixHD is the only place you'll find it.
So our advice to you, Horror Fans, is to check with your cable or satellite provider and see if they carry Epix.  If they do, add it to your channel lineup and make haste to download the EpixHD app.  Seriously, how else are you going to watch Billy the Kid vs. Dracula on all your devices?