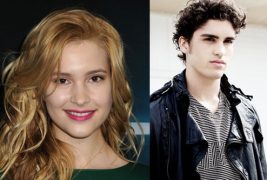 Upstart production company 308 Enterprises is planning to shoot several movies in Vancouver, Canada and the horror flick The Ninth Passenger is up next.  Boasting an experienced cast and a great concept, The Ninth Passenger stands a good chance to be the first of many genre projects to come utilizing this same game plan.  Read the full press release below, Horror Fans….
Los Angeles, CA, July 25, 2016—308 Enterprises is pleased to announce that principal photography is set to commence on the feature film The Ninth Passenger in Vancouver, Canada.
The Ninth Passenger follows a group of college students on a spontaneous midnight sea voyage that turns to horror when they drift to a dark island and are hunted by a mysterious ninth passenger.
"I am excited to be back in my hometown of Vancouver," states producer/actor Corey Large of 308 Enterprises. "This is the first of several productions we (308 Entertainment) plan on bringing here (Vancouver). With this first –rate cast, a stellar script, and the fantastic locations, we are confident this will be a film audiences will enjoy."
The thriller which stars Jesse Metcalfe (Dallas, John Tucker Must Die); Alexia Fast (Jack Reacher); Tom Maden (Scream: The TV Series); Veronica Dunne (K.C. Undercover); Sabina Gadecki (Entourage); Corey Large (Heist, It Follows); David Hennessey (The Girl Who Invented Kissing); Cinta Kiehl (After the Dark); Timothy V Murphy (The Lone Ranger); was written by Corey Large and Steve Albert and is directed by Ian Plaff, with Gary Ousdahl of Advanced Management, Issac LeFevre and Felipe Dieppa serving as Executive Producers.
In addition to The Ninth Passenger, 308 Enterprises recently produced The Girl Who Invented Kissing, starring Abbie Cornish and Luke Wilson, as well as the upcoming features In Like Flynn, and Hunted. Corey Large, head of 308 Enterprises, is best known for his work on the hit horror/thriller film It Follows, Heist and Kid Cannabis.