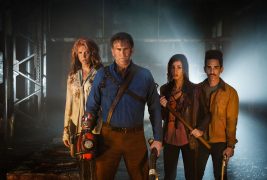 Not everyone has a case of the Mondays, today, Horror Fans.  Starz President and Chief Executive Officer Chris Albrecht made several announcements at today's Starz Television Critics Association (TCA) presentation at the Beverly Hilton.  But we know there's one Starz television series in particular you're chomping at the bit for.  Season Two of "Ash vs Evil Dead" is coming in October and you can read highlights of the press release below to get the juicy meat…uh, DEATAILS!  Read on, Horror Fans….
Beverly Hills, Calif. – August 1, 2016 – Today, Starz announced the highly-anticipated Season Two return for their critically-acclaimed series: the horror fun-ride "Ash vs Evil Dead."
"Ash vs Evil Dead" scares up its second season premiere entitled "Home" on Sunday, October 2 at 8PM ET/PT. The second season roars back into action with an extended episode where Ash is forced to leave his cushy retirement in Jacksonville, return to his hometown of Elk Grove, Michigan, and mount up once again to face The Evil Dead. This time, he'll have to form an uneasy alliance with his former enemy Ruby as Elk Grove becomes the nucleus to the most dangerous horror Ash has faced to date. The upcoming season of Ash vs Evil Dead will include ten half-hour episodes.
The cast is led by Bruce Campbell (Evil Dead, "Burn Notice") in the role of Ash Williams; Lucy Lawless ("Salem," "Spartacus") as Ruby, who now possesses the powerful Necronomicon; Ray Santiago ("Touch," Meet the Fockers) as Pablo Simon Bolivar, Ash's loyal sidekick dealing with the trauma he suffered in the cabin; and Dana DeLorenzo (A Very Harold & Kumar 3D Christmas) as Kelly Maxwell, who, grief-stricken after the death of her parents, plots revenge against The Evil Dead.  Lee Majors (Do You Believe), Ted Raimi ("Xena: Warrior Princess," Spider-Man) and Michelle Hurd ("Law & Order: SVU") join the cast this year as Brock Williams, Ash's father, Chet Kaminski, Ash's childhood best friend, and Linda, Ash's high school love respectively.
Sam Raimi serves as Executive Producer with Rob Tapert (Evil Dead, "Spartacus," Xena: Warrior Princess"), Bruce Campbell (Evil Dead, "Burn Notice") and Ivan Raimi (Drag Me To Hell, Spider-Man 3) along with Craig DiGregorio ("Workaholics," "Chuck") who serves as Executive Producer/Showrunner. Aaron Lam ("Spartacus") and Moira Grant ("Spartacus") serve as Producers.
For more information, follow @AshvsEvilDead on Twitter and like https://www.facebook.com/ashvsevildead on Facebook. Join the conversation with #AshvsEvilDead and #STARZ.