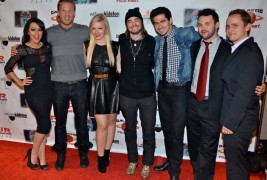 Horror Fans!  The crazed maniacs behind the new movie Truth or Dare are ready to unleash this beast on sunny California this Friday, January 10th.  Pajamas?  Vomit bags?  Red Carpet?  Yup, sounds like a party…read the full press release below….
Jessica Cameron's New Horror Film TRUTH OR DARE Screening at Shockfest!
Are you ready for a pajama party and a bloody good horror movie? Scream Queen Jessica Cameron's award-winning horror film, Truth or Dare is screening at the Shockfest Film Festival in Hollywood, CA on Friday, January 10th at 11:55 pm. The event will be held at Raleigh Studios, across from Paramount located at 5300 Melrose Ave. Hollywood, CA 90038.
The red carpet for the event starts at 10pm and it is going to be a pajama party so all guests are asked to arrive in the appropriate attire. Truth or Dare vomit bags will be provided to all in attendance. Director Cameron will be inviting guests to play a game of truth or dare with prizes such as limited edition t-shirts, pre-orders of the film, and signed photos of the cast.
Cameron's vicious feature, who she co-wrote and produced with Jonathan Higgins, has won 9 awards, 3 of which are for "Best Feature." The January event will mark the 8th year of the festival. Cameron and Higgins will be in attendance to present the film and host a Q & A after the screening along with actors Ryan Kiser and Devanny Pinn.
The plot of the film revolves around 6 friends who find internet stardom when they make "truth or dare" videos online. It is all fun and games until their number one fan decides he wants to play. Nothing is what it seems, and everyone has something to hide…
When asked about the Hollywood premiere of Truth or Dare, Cameron responded with:
"Shockfest is my favorite Hollywood film festival and I am so honored to run amok with all of my friends at this screening.
The red band trailer for the film can be seen here: http://www.truthordarethemovie.com.
Here is what some of the fans are saying about the film:
"Just when you can't take any more you get a slight break then it amps up even further!! Jessica Cameron really set the bar high for horror films." – pjchainsaw
"I loved it. This movie is a must see for any hardcore horror fans." – cali_horrorfan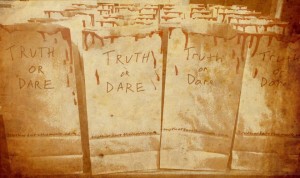 "One of the most visually well-crafted pieces of cinema I have seen in a while." – hanyoulionheart
For additional information regarding the screening, including the direct link for tickets, please see the links below. Be sure to order tickets online and in advance as tickets are expected to sell out.
Shockfest Website: http://shockfilmfest.weebly.com/
Truth or Dare Tickets: http://ow.ly/s9NrF
Facebook Event: http://ow.ly/s9Nwk
Truth or Dare has screened at the Twin Cities Film Festival in St. Louis Park, MN and the Razor Reel Fantastic Film Festival in Bruges, Belgium. The movie will also screen the following week in Long Island, NY at the Macabre Faire Film Festival.
WARNING: Truth or Dare is an intense, violent, and graphic horror film. Although it is not rated, the film is not recommended for people aged 17 and under.
For more information on Truth or Dare, please check out the links below:
Website:http://www.truthordarethemovie.com/
Imdb:http://www.imdb.com/title/tt2762738/?ref_=fn_al_tt_5/
Facebook:https://www.facebook.com/TruthOrDareTheMovie?ref=hl/
Twitter:https://twitter.com/FilmTruthOrDare/