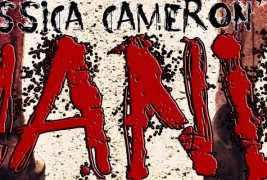 Filmmaker Jessica Cameron is back with a trio of new horror flicks that includes Mania, Desolation, and the documentary depicting the production of them both, Kill the PA.  Cameron has unleashed the first trailer for Mania and it's a killer!  Read the full press release and view the trailer below.  But beware, horror fans, there be blood and boobs ahead (NSFW)….
Director/Scream Queen Jessica Cameron has shared the first bit of footage from her sophomore directorial vehicle, titled Mania.  The teaser trailer can be viewed below:
The plot of the film revolves around two lesbian lovers who flee their home and travel cross country after a brutal murder. The movie stars Ellie Church (Time to Kill, Headless) in the lead role of Mel.
Mania is scheduled to start the festival circuit later this year. Fans are encouraged to ask for it at their favorite festival.
Mania is one of three features that were filmed simultaneously while traveling across the United States in an RV. Desolation is the other narrative feature, which is a modern hitchhiker tale in which Cameron stars alongside Carlo Mendez (The Bay, The Second Coming of Christ). Kill the PA will be the feature-length documentary that chronicles the making of both movies, giving fans an eye opening, honest look into how indie films are made.
Cameron launched her directing career with the multi-award-winning film Truth or Dare which went on to win 33 awards across the globe at various film festivals including the Twin Cities Film Festival, Frightfest London, and Monster Fest in Australia, amongst others. She reteamed with Truth or Dare cohorts Mem Ferda (The Devil's Double, Hyena) and Jonathan Scott Higgins (Utero). Ferda produced, with Higgins and Cameron executive producing from a script by Higgins.
Here is what Cameron had to say about the teaser:
"I'm so excited to share this fun little tease from my feature Mania. This is one of the sexiest films that I have seen in long time, and I know fans are going to love it as much as I do. This film is as naughty as Truth or Dare is dirty. "
For additional information regarding the Mania, please see the links below:
Facebook: https://www.facebook.com/ManiaTheMovie?fref=ts
Twitter: https://twitter.com/ManiaTheMovie