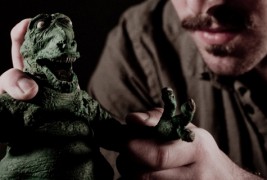 After we lost Ray Harryhausen two years ago, a lot of people in the genre community saw it as not only the death of a monumental man and artist, but also the death of an era of cinema and with it an entire storied technique and aesthetic. While that is certainly arguable, let's not memorialize the form just yet, horror fans.
Director and stop-motion guru Harry Chaskin (Robot Chicken), is crowd funding a stop-motion project that may very well lead to a resurgence of handmade, practical monsters, one frame at a time. At the very least it should make all you grown-up monster kids and practical FX nerds absolutely rejoice.
Don't believe me? Read the full press release below and check out the Kickstarter campaign and its accompanying video. You'll be so excited, you may even release a Kraken!
Revolutionary Stop-Motion Monster Movie STEEL CUT OATS Launches on Kickstarter
Los Angeles, CA – Ever seen a monster made out of Oatmeal? A group of stop-motion artists have banded together to do just that with this groundbreaking animated/live-action hybrid retelling of a famous Eastern European folktale. Loosely based on the legend of the golem, Steel Cut Oats tells the story of a wounded boxer who builds a giant protector out of oatmeal to defend himself from the mobsters who ruined his career.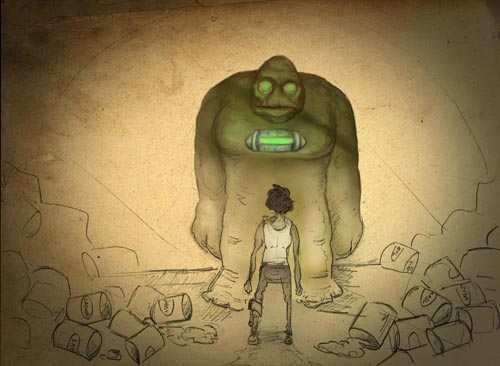 Director/animator Harry Chaskin and his team hope to usher in a new type of storytelling with the project, using practical special effects techniques from bygone eras to create a new aesthetic that looks toward the future while paying homage to the past.
"A lot of people think of stop-motion effects as crude or old-fashioned, but I firmly believe it is still a viable technique for creating memorable cinematic creatures," says Chaskin. "With Steel Cut Oats, I'm planning to use traditional handmade techniques like matte-painting, miniatures, 2d-optical, and stop-motion to create a memorable world that serves this poignant character driven story."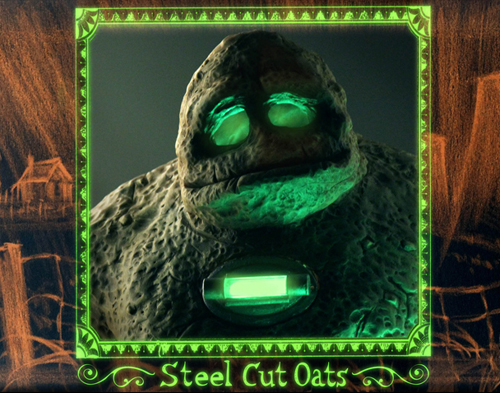 But Steel Cut Oats is just the beginning! While Oats is meant to stand on its own, it is also a proof-of-concept for several other projects that Chaskin has brewing. Getting involved with Oats is an opportunity to pull a very special team together and create a compelling short film that will ultimately serve as a calling card for a whole slew of shorts and features built around practical effects.
Check out Steel Cut Oats at Kickstarter.com. This is an opportunity to get involved with a truly unique film.