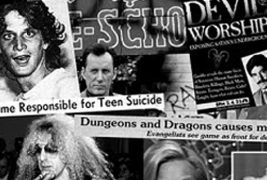 Horror nerds, music fans, and all-around outcasts of a certain age and ilk will remember well the "Satanic Panic" of the 1980s.  From crusades against D&D to trials focusing way too much on Ozzy Osbourne lyrics, nothing was safe from the pious and the paranoid among us.  Most relevant to RavMon readers is the number of your favorite VHS horror flicks that earned the ire of the culturally buttoned up. 
FAB Press has assembled an account of this unfortunate phenomenon from the people who lived it and the experts who've studied it.  This illustrated, comprehensive look at the infamous '80s Satanic Panic features 20 authors of diverse backgrounds to bring it to you straight. 
Read the full press release below, Horror Fans….
In the 1980s, it seemed impossible to escape Satan's supposed influence. Everywhere you turned, there were warnings about a widespread evil conspiracy to indoctrinate the vulnerable through the media they consumed. This percolating cultural hysteria, now known as the "Satanic Panic," not only sought to convince us of devils lurking behind the dials of our TVs and radios and the hellfire that awaited on book and video store shelves, it also created its own fascinating cultural legacy of Satan-battling VHS tapes, audio cassettes and literature.
Satanic Panic: Pop-Cultural Paranoia in the 1980s offers an in-depth exploration of how a controversial culture war played out during the decade, from the publication of the memoir Michelle Remembers in 1980 to the end of the McMartin "Satanic Ritual Abuse" Trial in 1990.
Satanic Panic features new essays and interviews by 20 writers who address the ways the widespread fear of a Satanic conspiracy was both illuminated and propagated through almost every pop culture pathway in the 1980s, from heavy metal music to Dungeons & Dragons role playing games, Christian comics, direct-to-VHS scare films, pulp paperbacks, Saturday morning cartoons, TV talk shows and even home computers. The book also features case studies on Thee Temple ov Psychick Youth and Long Island "acid king" killer Ricky Kasso. From con artists to pranksters and moralists to martyrs, the book captures the untold story of how the Satanic Panic was fought on the pop culture frontlines and the serious consequences it had for many involved.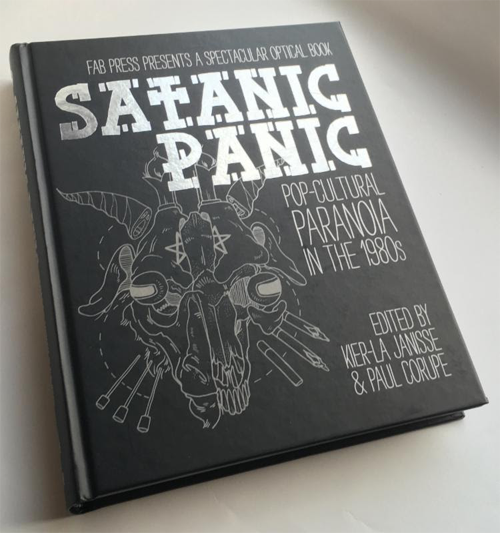 "An often hilarious, sometimes terrifying view into the damage that can be caused when belief outweighs reason." – Daniel XIII, Famous Monsters of Filmland
The Authors: SATANIC PANIC features essays and interviews by authors and media critics including Adam Parfrey (Apocalypse Culture), Gavin Baddeley (The Gospel of Filth, Lucifer Rising: Sin, Devil Worship and Rock n' Roll), Liisa Ladouceur (Encyclopedia Gothica), David Flint (SHEER FILTH!), Alexandra Heller-Nicholas (Rape Revenge Films: A Critical Study), Adrian Mack (The Georgia Straight), Forrest Jackson (Cosmic Suicide: The Tragedy and Transcendence of Heaven's Gate), Alison Nastasi (Flavorwire), Leslie Hatton (Popshifter), David Canfield (Twitch), David Bertrand (Fangoria; Spectacular Optical), Alison Lang (Rue Morgue, Broken Pencil), Kevin L. Ferguson (Eighties People), Wm Conley (Deathwound), Kurt Halfyard (Twitch), Samm Deighan (Satanic Pandemonium), Stacey Rusnak (The Postnational Fantasy: Essays on Postcolonialism, Cosmopolitics and Science Fiction), Ralph Elawani (C'est complet au royaume des morts), Gil Nault (Liturgie apocryphe), one-man band John Schooley and Joshua Benjamin Graham, alongside co-editors Kier-La Janisse (House of Psychotic Women) and Paul Corupe (Canuxploitation). The book also features comic art by Rick Trembles (Motion Picture Purgatory) and original illustrations by Toronto artist Mike McDonnell.
https://www.fabpress.com/satanicpanic.html