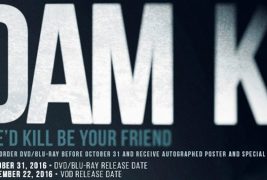 We here at Ravenous Monster are always proud to bring you news of art—in this case, a movie—that's referred to as vile, demented, sadistic, and f*cked up.  Welcome to indie filmmaker Joston Theney's ADAM K., the aforementioned movie of ill repute coming to home video on Halloween and VOD soon thereafter.
Read the full press release below, Horror Fans….
Filmmaker Joston "El Rey" Theney of the production company #SinningWorks announces the official home video release of the horror/thriller ADAM K. The film, referred to by reviewer James DePaola as "sadistic, vile, and will get your attention," stars MTV "Teen Mom" Farrah Abraham, rising pop singer Emii and horror movie mainstays Brinke Stevens, Mindy Robinson, Arielle Brachfeld, Sarah Nicklin, and Kristin Wall.
Home video will see the DVD/Blu-ray release on Halloween 2016, with the VOD and On-Demand release scheduled for November 22, 2016.  DVD/Blu-ray Pre-order Packs are available starting August 29th. Check the Facebook page for more details at www.Facebook.com/AdamKTheMovie as well as the Twitter page at www.Twitter.com/AdamKTheMovie.
When a lonely, awkward insurance claims adjuster is rejected, only the blood of his victims can keep him warm. In this horror/thriller – referred to as "sadistic [and] vile!" and "a dementedly fucked up slice of humanity" – watch as ADAM K. kills to be your friend.
#SinningWorks in an independent production company of motion pictures founded by writer, director, and producer Joston Theney operating in Los Angeles, CA.