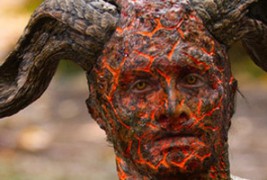 I fully expected there to be a film adaptation of Joe Hill's sophomore novel— a book I absolutely loved, from start to finish (do yourself a favor and immediately pick up a copy). I was just a tad nervous when I read the news that horror-genre staple Alenandre Aja would be directing it.  Not because I don't appreciate his work, but simply because I had never seen him—a member of the original so-called "Splat Pack"—direct a character-driven movie before. HORNS contains some of my favorite dark literature characters of the last ten years, and I wanted the film adaptation to be a faithful and emotionally-charged one.  Overall, Mr. Aja did not disappoint.
HORNS is based on author Joe Hill's 2010 novel that received a wide range of accolades and enthusiastic admiration from the dark literature community.  In case you weren't aware, Hill happens to be the son of a guy named Stephen King.  The novel has a terribly dark storyline that would be difficult for any filmmaker to handle delicately and respectfully, but Aja delivers a solid product, especially considering the screenplay (written by Keith Bunin in his first shot at a big film) leaves quite a bit to be desired.
We meet a young man named Ig Perrish (played almost perfectly by Daniel Radcliffe), a tormented fellow who doesn't have time to mourn over the grisly murder of his beloved girlfriend because the town wholeheartedly believes that Ig is the one who cracked her skull open with a rock after raping her. After a night of drowning his sorrows, he takes his aim (literally) at a candlelight vigil for Merrin (Juno Temple), literally turning his back on The Man Upstairs. The film starts off as your run-of-the-mill thriller but quickly spirals into a very dark and personal place for our protagonist.
Soon after waking up in the bed of a lifelong friend and nursing a devil (heh) of a hangover, Ig notices something very peculiar about himself in the bathroom mirror. It doesn't take long after this discovery for all Hell to break loose (I swear I'm not doing these puns on purpose).  The horns he now sports on his forehead take the filter off of everyone in town, letting Ig in to the darkest and ugliest secrets his neighbors and family are hiding.
No one is quite as they seem, from Ig's parents—whom he learns terrible and dark secrets from thanks to the power of his new protrusions—to his brother, to his best friend. Let's not forget a cop who grew up with Ig and may have a skeleton or two in the, 'erm, closet.
Ig is a character so damn easy to love because he's instantly turned into a sympathetic being. How can you not feel for a guy who's being wrongly accused of the worst kind of crime while he's trying to come to grips with the loss of the love of his life?  Of course, it makes loving the character so much easier when he's portrayed by an elite talent like Radcliffe.  Radcliffe continues to prove he's more than your average boy wizard.  Here, he's a broken, brooding man who has nothing to live for and nothing to gain, even as he fights to clear his name.  Joe Hill said about Radcliffe's performance, "It is a wrenching, vulnerable, emotionally naked performance that isn't like anything he's ever done on screen before.  He is such a wonderful Ig Perrish."
Ig can also be seen as an antagonist at times (such is the life of being the Devil), but whether he's listening to his mother tell him a heartbreaking truth or encouraging two bumbling male cops to profess their love for one another, you can't help but root for the guy.
A star-studded cast fronted by Daniel Radcliffe and Juno Temple drive the vehicle. James Remar and Aja regular Kathleen Quinlan portray Ig's parents.  Joe Anderson (THE CRAZIES) is Terry, Ig's troubled older brother. Kelli Garner and Heather Graham provide solid supporting roles as the socially unloved Glenna and the big-mouthed waitress, respectively.  Temple's take on Merrin has received a few verbal jabs from across the internet, but I was okay with it.  The screenplay adaptation didn't seem too interested in digging in as deeply as it should have into the relationship Ig and Merrin shared, so I don't blame Temple for not being able to deliver as strong a character as the book portrays.  On the flip side, there is plenty of opportunity for Ig's best friend Lee Torneau (played almost awkwardly bad) to really make a name for himself, but it just never comes to fruition.
Remar and David Morse (THE GREEN MILE) play the fathers of Ig and Merrin, respectively, and they bring the melancholy that the book oozes during their brief moments on screen.
While there is plenty of dark comedy and heavy religious undertones, make no mistake—this is most definitely a horror film. Body modification, murder and evil deeds are abound.  However, there is also a lack of the soul-rooted sadness rotting in Ig's heart that the novel tells so beautifully.  There are some moments of the film that seem quite out of place—namely, the flashback love scenes between a younger Ig and Merrin that simply don't fit the overall darkness of the film.
As Ig begins to accept and enjoy his newfound powers, the film is really turned on its head and this is where Aja's twisted grasp of psychological horror (see: HAUTE TENSION) really shows. CG effects aside, it is the awesome practical make-up work of the legendary KNB crew that really kicks ass with Ig's devilish self (there I go again!).
Visually, sometimes even in spite of the screenplay, Aja gets the point of the novel across just by letting his actors act and his camera tell the story.
Much like the book, the film may be a tad too long for some audience members but a two-hour movie was definitely needed to cover the sprawling tale that Joe Hill constructed. It's a moving film with excellent actors playing very relatable characters.  There's something you don't see in horror every day.