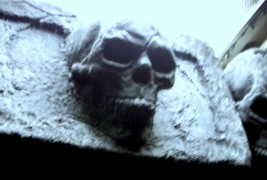 Well, it's that time of year again.  The time when the leaves begin to change, finding a horror movie on television is the norm, and a time when things like Oktoberfest, hayrides, and pumpkin carvings become part of a person's weekend activity.  It is also a time in which those of us who are normally considered misfits are suddenly welcomed by the 'civilians'.  Yes, it is Halloween season again and let us welcome it and all that comes with it.
Among the many enjoyable aspects of this season is the haunted attraction.  I mean, who doesn't anticipate going to a building that appears to have long been abandoned?  Who doesn't enjoy entering that building and having zombies, demons, and other creatures jump out at you and your friends as you try to make it out alive?  Zombies, chainsaws, and axe murderers are often commonly found at these attractions…that is, unless you venture to Castle Blood in Monessen, PA.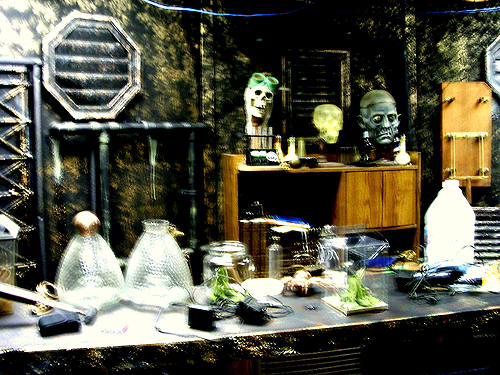 Castle Blood is a longstanding haunted attraction that first opened its doors back in 1993.  It's a live action tour with a storyline that spans 21 years.  A different piece of that story is offered each year.  The Castle's patrons are also participants of the show as the denizens send them on a quest.  According to Castle owner Gravely MacCabre, the Castle Blood attraction is described as being a delightful mixture of Disney's Haunted Mansion with a touch of Harry Potter against the backdrop of the Classic Horror Monsters of old. "But don't expect to see Dracula, Frankenstein, or the Wolfman," MacCabre says.  "The inhabitants of the Castle are entirely their own manifestations."
In the past year or two, the Castle has gone through some significant changes; one of those changes was the move to their new location.  This very much coincided with last year's theme, Phoenix Rising.  "Last year was meant to be a celebratory theme as we had moved to a new location and were able to get through it," MacCabre states.  "We even saw an increase in patronage when we would have been happy to have just kept it even.  But this year, we are bringing a theme that leans back to the morbid side."
And that theme is Momento Mori.
"It is basically a remembrance of death," MacCabre says.  "The Momento Mori theme reminds us not only of the original deaths of the Castle's denizens, but to also remind our guests of their own eventual ones."
In addition to each year having a unique change in theme and approach, the attraction offers its backdrop of movie and television quality sets that have been used in a variety of films, television shows, and music videos (as a side note, they extend their location to artists, models, bands, and filmmakers).  "We work to have our effects immersive enough to appear real and maybe even have our guests question us a little," MacCabre states.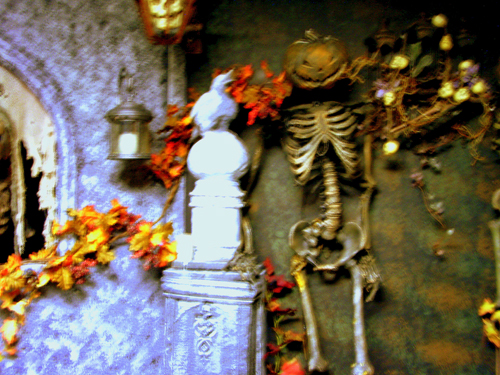 Key additions have been added to the Castle this year, including new effects and tricks.  MacCabre and company have also opened the Castle year round with a variety of events.  In addition to their Halloween tour, they now have Christmas, Valentines Day, and Midsummer Nights tours, the latter having a Shakespearean theme.  They also have a Creepy Crafts show twice a year.
This Halloween, Castle Blood will be hosting a wide variety of day events to compliment their nighttime haunted tour.  Some of these include the Castle Kid Fest on October 5th, The Fall Fest Craft Show on October 12th, and a Halloween Hearse and Hauntrod Show on October 19th.  The Hearse and Hauntrod Show is a car show where anyone who has decorated their car for Halloween can enter (this also includes motorcycles and standard bikes).
The Hearse and Hauntrod Show also includes a pinup contest (and Gravely made it a point to mention that it is a legitimate pinup modeling contest and any woman entering is encouraged to bring out her best Halloween style) and three live bands.  The bands playing at this event include Lady and the Monsters, Zombo and the Graveyard Rockers, and The Legendary Hucklebucks.
For more information on Castle Blood and all of their events, visit them at their website and on facebook:
http://castleblood.com/ (Official Website)
http://facebook.com/CastleBlood  (Official Facebook)
http://facebook.com/Castleoctoberevents (October Events Facebook Page)
In parting words, Gravely MacCabre and the other Castle denizens thank longtime sponsors Specter Studios and extend their gratitude and appreciation to their fans and patrons.  They are also airing their Midnight Monster Hop television show on Fridays at Midnight on http://freeundergroundtv.com/.
In my own parting words, I say that if there is any haunted attraction and group of people who truly embody the spirit of the Halloween season, the folks of Castle Blood are among the best.