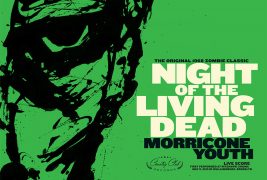 There aren't many movies that I so affectionately go back to over and over and over again.  Of course, 1968's Night of the Living Dead is most definitely one of those flicks.  As if George A. Romero's zombie masterpiece weren't great enough, now there's a new reason to revisit NOTLD.
Morricone Youth is a fantastic band formed in 1999 that gets its name from the famed Italian composer Ennio Morricone.  Widely considered one of the best and most talented "dark cinema"-themed bands working the scene, the group started out covering Marricone's legendary work and soon found their own voice in the world of "music written for the moving image."
The group recently released a six-track love letter to the seminal Romero zombie picture that is available in both digital and vinyl formats.
Led by Devon E. Levins (guitar, percussion, the ever-awesome glockenspiel, keyboards), John Castro (bass, vocals, keyboards), Dan Kessler (keyboards, percussion) and Kenny Shaw (drums, percussion), Morricone Youth lends its unique flavor to create a hell of a reimagined score for everyone's favorite undead tale.  With segments of original film material fused with the band's creative interpretations, this EP needs to be in your ear buds immediately.
The EP kicks off with "Driveway to the Cemetery (Main Title)," which plays perfectly with the film.  It's a trippy and snythy stroll down the gravel driveway leading to the tombstones.  Close your eyes and you can see Johnny teasing Barbara with his iconic line, "They're coming to get you, Barbara!"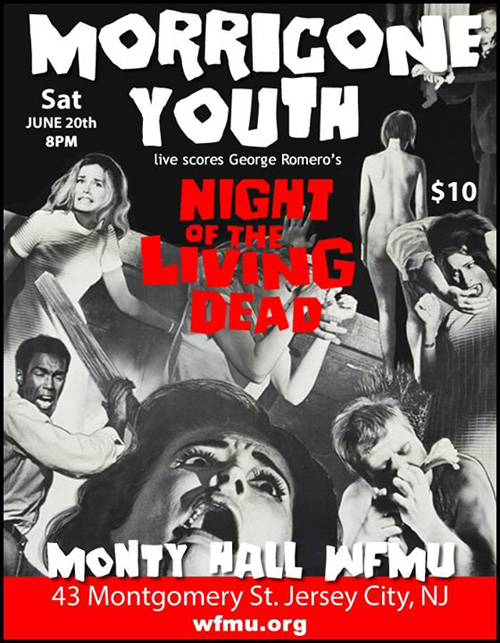 "Barbra" is a fun and twisted ode to the female lead in the film, and the piece plays out wonderfully in this six-minute and twenty-eight-second track.  There's a nostalgic sense of ominous creepiness to this track.
"Traumatized" is my personal favorite track.  It's a heavy jam that serves as a great centerpiece for the album.  The sounds just ooze with zombie apocalyptic madness.
"At the Gravesite" is a somber guitar stroll amongst the tombstones while "Beat 'Em or Burn 'Em" speeds up the pace.
"Another One for the Fire (End Title)" is a stoic jam fresh off of Ben's mind-boggling death.  At long last we meet the glockenspiel!  You can see the newspaper clippings and television alerts from across the nation pop up right before your eyes as you listen to this one.
Simply put, Morricone Youth's Night of the Living Dead EP is one of the best albums to come out of the horror scene in a long time and I highly suggest you scoop up a copy while they're still available (the original live score is currently available as a neon green vinyl LP with a limited 500-count pressing).  It's the perfect background music for a writer during a frantic writing session.  If you're a fan of horror scores, you'll absolutely love this set.