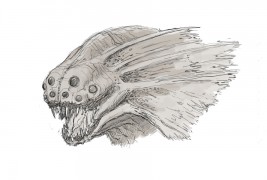 Australian filmmakers Denby Weller and Miri Stone have wrapped production on BUNYIP, a stunt-heavy, practical FX creature-feature.  As postproduction ensues, these two resourceful women turn to crowdfunding to fund the completion of this gonzo project.  To find out more about the movie and how you can contribute read the Silent Strike Productions press release below…
August 2013 – SYDNEY –Australian filmmakers and adventurers Denby Weller and Miri Stone have defied 150m cliffs and crashing ocean waves to make their microbudget horror called BUNYIP. Their indie adventure continues in post-production as they work to bring their creature-feature to life on the big screen… www.thebunyipmovie.com.
Armed only with the belief that nothing is impossible, Stone and Weller tailored the project to make use of their real-life skills, with the intention to create a cinema-quality story – on whatever budget they could raise for the shoot. The product of their vision is still a work in progress, but with a cash budget of $17,000, this adventure-thriller has already broken new ground in Australian filmmaking.
Now in post-production, BUNYIP is a cross genre film aimed at a wide audience and made possible by shooting on Canon 5Ds, 7Ds and underwater GoPros with a small but dedicated cast and crew of talented emerging filmmakers and film school graduates willing to go to extraordinary lengths to get the movie in the can.
Miri says, "Truth be told, Denby was the one with the real rock climbing and hard core survival skills — as befits an action heroine in the making! Growing up as a Scout hiking around New Zealand bush, I really had no idea what I was in for when she told me her crazy plan to write a micro-budget creature-feature based on rock climbing routes in the Blue Mountains… But it sounded like a bloody good adventure — so I was in (much to my parents trepidation)!
When we asked Sam Lyndon, playing the thrill-seeking entrepreneur TANC, if he was up for learning to climb for the role he asked with a glint in his eye when we were next hitting the gym for training. That was when I realised I'd better put my money where my mouth was and get my ass up that climbing wall… [thinks for a moment]… But after peering over dozens of sea cliffs and Blue Mountain faces on location scouts with my indie film partner's life in my hands as she checked out the route, I found myself equally terrified and thrilled. Rock climbing and indie filmmaking have that in common I guess… they have a way of hooking life-long addicts!"
Part of a growing trend of filmmakers tuning directly into their audience on the Internet, Miri and Denby caught the attention of indie fans in their 2012 crowdfunding and crowdsourcing campaigns. Believing that inclusion not exclusion was the key, they ran a design-the-creature campaign which received international submissions; online auditions eventuating in the casting of three emerging Aussie talents to complete their 7 strong cast; and even posted the screenplay online as it was being written to get audience feedback straight into as the project developed.
But it wasn't until they hooked the interested of two seasoned ex-pat rock climbers from the UK who run the Climbing Australia blog that these go-get-em filmmakers got the expert support they needed to safely execute the stunts required to make the big wall rock climbing sequences come alive on the big screen.
"There are so many unwritten rules of filmmaking that we wanted to test. We figured, if you could do the stunts for real then you might just have a chance at getting away without needing this huge Hollywood machine behind you. So a lot of what we did was trial and error… but we had the perfect team for it, and Miri is the perfect partner, willing to trust other people's expertise and work with it. Whenever we had a shot or sequence that didn't work, we'd just go back to the drawing board and work out an alternative approach," recalls Denby Weller.
"As an actor, especially one who is so invested in the project, I couldn't have hoped for a better director to collaborate with. The journey has been completely extraordinary; we've grown so much and have really faced our own fears on so many occasions. It's not often you work with people that you literally trust with your life, and we did just that."
For now, Stone and Weller have turned their attention from the call of the wilds to hunting down the funding they need to finish their feature in style — which they plan to raise as a combination of crowdfunding and private investment to the tune of $100,000.
Meanwhile, their crowdsourced "design-the-creature" competition winner, Kirill Nadtochiy, and their SFX Supervisor and Producer, Alex-Michael Petty, have been re-designing their creature into a full suit, complete with animatronics, to be shot out on green screen in LA later this year.
Currently residing in LA, Alex has just completed studying with some of the industry greats like Kevin Brennan (Pirates of the Caribbean: The Curse of the Black Pearl; American Werewolf in London) at Cinema Make Up School and is in discussions with Spectral Motion (known for the Hellboy films; Xmen: The Last Stand, Attack the Block; Blade: Trinity) to build the animatronic components of the BUNYIP suit.
When asked about the experience of working on BUNYIP and how it feels to be ramping up to build and shoot with some of film industry's SFX legends, Alex says "It's crazy that to think that I literally live in a dream world these days. Not only do I get to make monsters and movies for a living but I finally get the chance to work alongside a crew that I've admired and looked up to for a very long time, and to me that is a dream come true."
This willingness to return to the drawing board is a hallmark of this indie collaboration. In their pursuit to keep the VFX budget down, Petty, Stone and Weller, remain committed to exploiting the modern artistry of practical FX movie magic.
If you are called by the spirit of adventure, indie filmmaking or just want to see a thrilling romp through the Australian bush as a bunch of tech-savvy hipsters are hunted by an as yet undiscovered predator, then get behind their crowdfunding campaign: http://www.indiegogo.com/projects/the-bunyip-movie-post-production-fund
…Some legends have teeth…
For more information about BUNYIP or to contact the filmmakers about post production investment and distribution, please visit: http://www.thebunyipmovie.com
Trailer – http://www.youtube.com/watch?v=_FMYpo4mmX8
Official website – www.thebunyipmovie.com
IMDb: http://www.imdb.com/title/tt2826124/
Blog: http://www.thebunyipmovieblog.com
Crowdfunding site – http://www.indiegogo.com/projects/the-bunyip-movie-post-production-fund
Twitter: @thebunyipmovie
Facebook: fan page