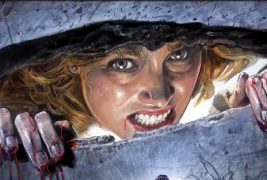 Legendary Italian gore machine Lucio Fulci's bloody fever dream The House by the Cemetery is one of the director's weirder films—if you can believe that—and it's finally getting an all-out, 4k restoration chocked (or maybe choked?) full of special features courtesy of Blue Underground.
This three-disc, uncut limited-edition Blu-ray is available to pre-order now and will be available outright on January 21. Please read on for the full press release containing all the graveyard dirt, the trailer, and links to order this vile vat of Italian splatter….
A young family moves from their cramped New York City apartment to a spacious new home in New England. But this is no ordinary house in the country: The previous owner was the deranged Dr. Freudstein, whose monstrous human experiments have left a legacy of bloody mayhem. Now, someone—or something—is alive in the basement, and home sweet home is about to become a horrific hell on earth.
Catriona MacColl (The Beyond), Paolo Malco (The New York Ripper), Ania Pieroni (Tenebre), Carlo De Mejo (City of The Living Dead), and Dagmar Lassander (Hatchet for The Honeymoon) star in this outrageous Italian shocker from 'The Godfather of Gore,' Lucio Fulci (Zombie). Blue Underground is now proud to present The House by The Cemetery in a new 4K restoration from the original uncut and uncensored camera negative, fully loaded with exclusive new and archival extras!
Disc 1 (Blu-ray) Feature Film + Extras
NEW! Audio Commentary with Troy Howarth, Author of Splintered Visions: Lucio Fulci and His Films
Deleted Scene
Theatrical Trailers
TV Spot
Poster & Still Galleries
Disc 2 (Blu-ray) Extras:
Meet the Boyles – Interviews with Stars Catriona MacColl and Paolo Malco
Children of the Night – Interviews with Stars Giovanni Frezza and Silvia Collatina
Tales of Laura Gittleson – Interview with Star Dagmar Lassander
My Time With Terror – Interview with Star Carlo De Mejo
A Haunted House Story – Interviews with Co-Writers Dardano Sacchetti and Elisa Briganti
To Build a Better Death Trap – Interviews with Cinematographer Sergio Salvati, Special Make-Up Effects Artist Maurizio Trani, Special Effects Artist Gino De Rossi, and Actor Giovanni De Nava
NEW! House Quake – Interview with Co-Writer Giorgio Mariuzzo
NEW! Catriona MacColl Q&A
NEW! Calling Dr. Freudstein – Interview with Stephen Thrower, Author of Beyond Terror: The Films of Lucio Fulci
Disc 3 (CD):
The House by The Cemetery Original Motion Picture Soundtrack by Walter Rizzati
BONUS! Collectable Booklet with new essay by Michael Gingold
Pre-order here!