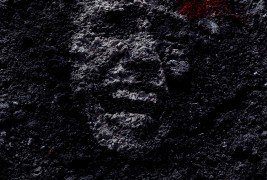 Alright, Horror Fans…as of yesterday, June 9th, director Flood Reed's fright feature American Backwoods: Slew Hampshire became available both On-Demand and on DVD.  Sporting an experienced cast, backing from Midnight Releasing, AND the "goriest scene of the year," this movie might make some noise…or maybe you will as you scream and gag!  Read the full press release and view the trailer below….
Midnight Releasing has announced that American Backwoods: Slew Hampshire—starring Dayo Okeniyi (The Hunger Games, Terminator:  Genisys)—will be released via Video-On-Demand, streaming content providers and select Redbox kiosks throughout North America beginning in June. A brand-new full-length trailer and poster designs are now available for public consumption, as well as additional artwork AND exclusive clips.
TRAILER:

American Backwoods: Slew Hampshire—which was awarded "Goriest Scene of the Year" by Rue Morgue Magazine and nominated for Best Feature, Best Actor and Best Editing at the 8th Annual Shockfest Film Festival—was released on DVD June 9th. Bonus Features include 5.1 Surround Sound, Gag Reel and Audio Commentary by writer/director Flood Reed and seven cast members. American Backwoods: Slew Hampshire is available through Amazon.com.
In addition to rising talent Okeniyi, the ensemble cast also boasts the likes of underground horror maverick Michael Todd Schneider (August Underground's Mordum), Jeremy Isabella (Ghoul), French television actress Gaya Verneuil and a whole slew of majestically bearded actors.
American Backwoods: Slew Hampshire has not been rated, but is intended for mature audiences due to graphic violence, profanity, nudity and sexual content.
…A local rite goes frightfully wrong when a group of teenage boys encounters a sinister hunting party, a bloodthirsty tribe and a mythical beast in the backwoods of New Hampshire.
"Death Is Not The Worst Of Evils!"
Like American Backwoods: Slew Hampshire on Facebook!